You have one day in Santiago de Chile and ask yourself what to do in such a short time? We will show you how we spend a great day in the capital of Chile and how to get to the airport with a bus, instead of paying a lot of money for a taxi.
The arrival
After a long flight, we arrived at the Santiago de Chile airport. Here, we had to fill in a "Corona form" and they measured our temperature: approved!

Typically, when you are looking for transport to your accommodation, many taxi drivers will offer you their services. However, at this airport, there is an official taxi stand, so we went there. Instead of taking the public transport (it was already late and dark), we took a taxi compartido (shared taxi), which dropped us in front of our hostel.
Spending one day in Santiago de Chile
Thanks to a good night's sleep (Ohropax, muy importante!), we woke up with our energy renewed. We had a great breakfast on a terrace looking out towards Cerro San Cristobal (hill). So what to do in Santiago de Chile in one day…? When googling for activities, the local news on the TV continuously reported about aggressive protests in our city, shit. "How bad is the situation out there" we asked the person at the reception. He told us not to go near Plaza Italia, unless you want to watch the demonstration (no thanks, Ralph promised his grandmother not do stupid and dangerous stuff).
Itinerary for one day in Santiago de Chile:
While avoiding Plaza Italia, we planned our itinerary. In one day, we could see the following sights in Santiago de Chile…
1) Mercado Central,
2) Plaza de Armas,
3) Presidential Palace of Chile,
4) Cerro Santa Lucia,
5) Cerro San Cristobal during the sunset.
Mercado Central
Mercado Central is a market, where they mainly sell fish. In addition, at the market you can pick one of many restaurants to eat lunch or dinner. Because our free breakfast was not really filling, we sat down at a random restaurant and ate delicious fried fish with rice and a Chilean salad (tomato, onion, lemon and coriander). When continuing the trip to Plaza de Armas, we bought a local pre-paid sim card of the provider WOM.
Plaza de Armas
At Plaza de Armas, locals are relaxing in the shade – we copied them. At this time, it was already very hot outside with 36 degrees Celsius. Sitting on a bench and watching people passing by felt like the right thing to do. Our next stop was the Presidential Palace of Chile, but the area was on lockdown and heavily secured. We therefore could not get a close-up view of the palace.
Cerro Santa Lucia
Cerro Santa Lucia is a small hill in the middle of the city. It is a green oasis inside a large, busy and hot urban jungle; the perfect place to cool down on a bench in the shade and enjoy the view while zipping from a granizado de naranja (slush ice). In general, you see many parks that locals use to relax, study or do yoga, even when the parks are located in between busy roads.
Cerro San Cristobal
After restoring our energy at the hostel, we took a Funicular – a standing cable car – up the hill of Cerro San Cristobal. The view was amazing; in the back, the great mountains of the Andes towered over the city. In the front, everywhere we looked was Santiago. This hill is very popular with sportive locals who (mountain) bike or run to the top of the hill. Next to the views, you will find an open-air church and a very large statue of Virgin Mary. We waited until sunset, enjoyed the marvellous colours and hiked back to our hostel. The perfect end of our first day in Santiago de Chile.
After a 27-hour long travel from door to door and a hike through the city we were more than tired and ready to go to bed.
Let us introduce our new water purifier
By the way, it was also the first day we tried out our new water purifier. We drank the entire day water from the tap and were happy: we did not get sick (it works or the water is already clean – time will tell). So far, it is a great way to reduce the amount of plastic bottles.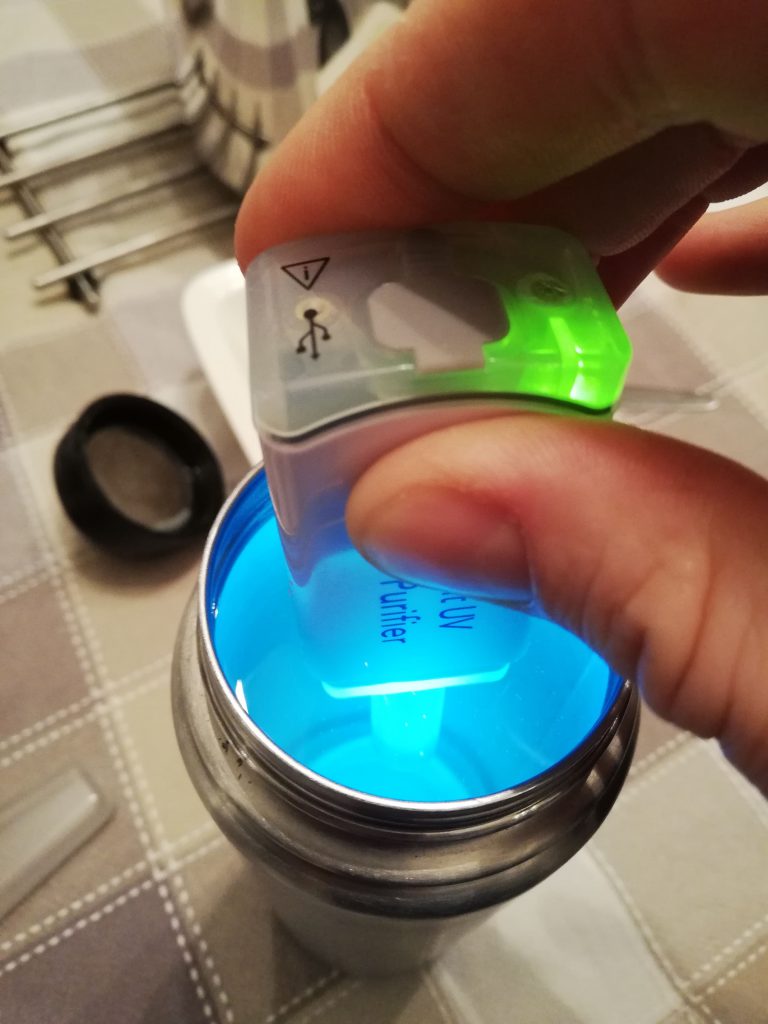 Leaving Santiago de Chile after one day and heading to Punta Arenas (Patagonia)
The next day, we had to catch a flight to Punta Arenas. This time, we chose to take the public transport, which is much cheaper than a taxi. It was a 15 minutes' walk to the subway station. Normally, there would've been a closer one nearby, but that one was burned down during the riots (not yesterday :)) and is currently not accessible. We transferred to a Centropuerto bus that drove directly to the airport. There are two buses going to the airport 1) Centropuerto and 2) Turbus. We took Centropuerto because we read that it is a direct bus and more suitable if you have a lot of luggage. It departs every 10 minutes, which is great. The bus was crowded with mainly locals, who use the bus to go to their work at or close by the airport.
This is where our short, but nice trip to Santiago de Chile ends. While the news will show a burning city, we were unaffected by the riots and we felt perfectly safe. Of course, we stayed away from "the action". We didn't had much time in this pleasant city, so we missed a lot of sights and to-do's. Who knows, we might come back and spend more than one day in Santiago de Chile!
Do you want to know how we spend our 5 days in Torres del Paine National Park or how to plan your hike in Torres del Paine? Then don't miss out our posts 'A 5-day hike in Torres del Paine National Park' and 'Planning your hike in Torres del Paine: 11 essential tips'
Have you been to Santiago de Chile? Which sights would you recommend?