Vietnam was the first country we explored together. There is one delicious, healthy and incredibly good-looking dish we learned to prepare there, and want to share with you. Authentic Vietnamese spring rolls, also called summer rolls. Learn how to prepare this authentic recipe! You can eat them fresh or fried, but we prefer the fresh ones!
Fresh summer rolls versus fried ones
Everyone knows the fried spring rolls that you can buy in the supermarket. They are easy to prepare, but taste completely different than the ones we will show you. Furthermore, the fresh Vietnamese spring rolls are not fried, which make them very healthy.
During our one-month travel through Vietnam, fresh Vietnamese spring rolls were one of our favourite dishes. We explored Halong Bay on a 2-day boat trip, during which they taught us how to make Vietnamese spring rolls. This was a great and tasteful experience, which we want to share with you. Do you want to make this delicacy at home? Then, check out our authentic Vietnamese spring rolls recipe below!
How to make authentic Vietnamese spring rolls
Further below, we will show you exactly how to prepare them. First, let us explain you the basics:
Fresh ingredients: We give you an example about how you can fill the summer rolls. However, feel free to use other ingredients to your liking. In our authentic Vietnamese spring rolls recipe, we will show you a vegetarian version. However, you can add shrimp, crab or pork if you like. Next to vegetables, you can also try fruits like mango, strawberries or kiwi's, which give it a great and fresh taste. Make sure that you use some ingredients that have a "crunch", like carrots, cucumbers, or bean sprouts.
Cut all your ingredients before you start rolling: It is important that you cut all your ingredients before you start rolling the Vietnamese spring rolls.
Roll it! When it is time to roll, you need to handle the rice paper with care, because it is very delicate. Prepare a large bowl of warm water. Submerge the rice paper in warm water for about 10-20 seconds. However, do not submerge it too long, because the rice paper will tear.
Less is more: We still make this mistake, but you should stick to the rule "less is more". When the rice paper is not too fully packed with ingredients, it is easier to roll. This is the secret for perfection!
Eat them while they are fresh: The summer rolls taste best when freshly prepared. If you have leftovers, you can carefully store them in the fridge. However, we advise to make as many as you can eat. Furthermore, if you stack them or place them side-by-side, they will stick together. When taking the spring rolls apart, you will most likely tear them.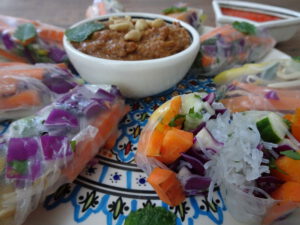 Print Recipe
Vietnamese spring rolls
Fresh Vietnamese spring rolls, also called summer rolls, are delicious, healthy, and incredibly pleasing to the eye! Colourful vegetables, glass noodles, and fruits that are wrapped in rice paper .You can dip them in a peanut or sweet & sour sauce.
Ingredients
Vietnamese spring rolls
4

rice papers

150

g

carrots

1

mango

1/2

cucumber

50

g

red cabbage

50

g

bean sprouts

5

g

coriander
Peanut sauce
160

g

peanut butter

1

clove

garlic

1

lime

1

cm

ginger

2-3

tbsp

soja sauce

2

tsp

maple syrup

crushed chillies
Sweet chilli sauce
1

paprika

1

clove

garlic

1

fresh chilli

2 1/2

tbsp

vinegar (wine- or rice vinegar)

5

tbsp

sugar

70

g

cellophane glass noodles or rice noodles
Instructions
Sweet and sour sauce
Wash the paprika and the chilli, and peal the garlic.

Add the paprika, chili and garlic to the mixer, cover and process until smooth. Place the smooth mixture into a cooking pot.

Add ¼ l of water, vinegar andsugar, and cook it. Let it simmer on low heat, until the sauce is thickened.
Peanut sauce
Peal the garlic and the ginger, and finely chop them.

Add all ingredients for the peanut sauce in a bowl and blend it. If the sauce is too thick, you can add some water.
Vietnamese spring rolls
Cook the glass noodles, follow the instructions on the package. Then, put them apart.

Wash the carrots and the cucumber, then, cut them into thin strips of 5 cm.

Peal the mango and cut it into thin slices.

Finely cut the red cabbage and the coriander.

Prepare a big bowl of warm, not boiling, water and submerge a rice paper for 10-20 seconds. If the rice paper becomes slimy, it was submerged for too long.

Place the rice paper on aboard. Fill the lower third part of it with the carrot, mango, cucumber, red cabbage, bean sprouts and the coriander.

Fold the sides in, then fold the bottom. Lightly squeeze the mix together as you roll.

Serve with peanut or sweet chilli sauce and enjoy!
Mhhhhh Vietnamese spring rolls are so tasty, we cannot get enough of it!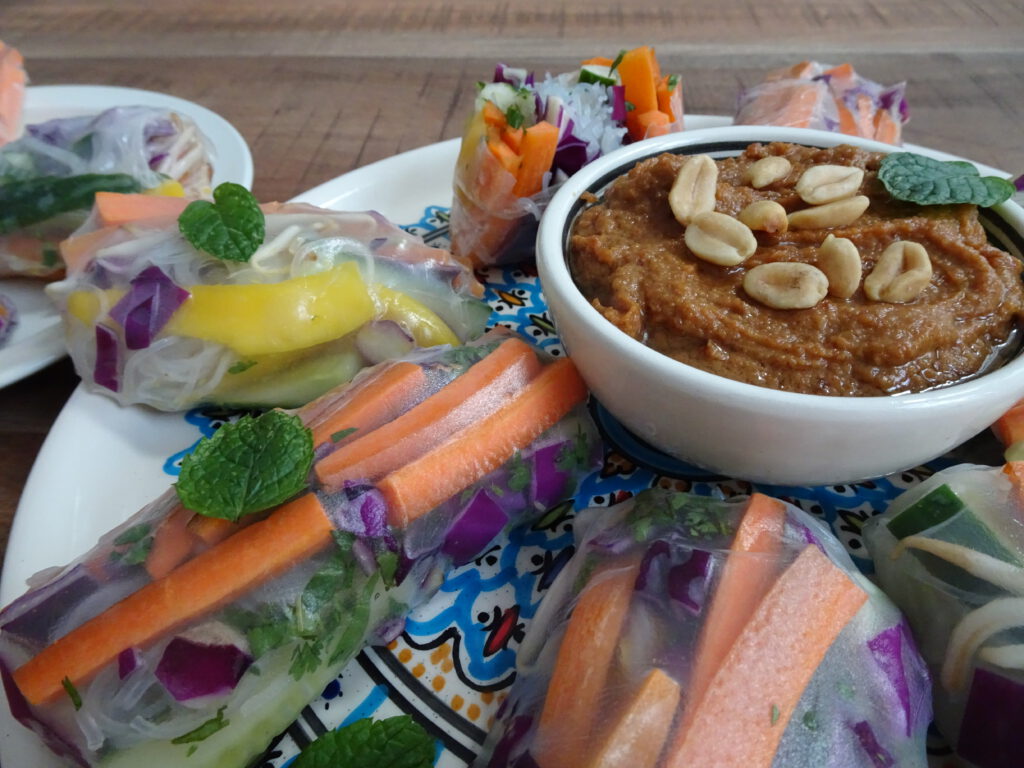 Do you want to have a culinary escape to India? Then try our Indian Aloo Samosas with cucumber & mint raita! Are you a sweet tooth? Then you should try 3 leches from Latin America. It is delicious!
What is your favourite Dish from Asia? Do you also love this Vietnamese spring rolls recipe as much as we do? Let us know in the comments!