You made the decision to go on a world tour, nice! What should not miss on your packing list for the trip of your life? There is no universal packing list, because it depends on your own needs. Check out our advice to be well prepared.
Less is more
In general, people tend to pack too many clothes and items, but less is more! This is more difficult than it seems. It is not necessary to take everything you might need, because you travel to a country not the moon; it is possible to purchase the items you need during your trip. For instance, we will start our journey in Patagonia (cold), which is unsuitable for relaxing at the beach and snorkelling. If we would bring our beach towels and snorkel set, we would have to carry them without being useful for a couple of months. Therefore, we decided to buy these items where we would need them.
How will you travel?
Firstly, you should think about your upcoming trip; how will you travel? This is very important while preparing the packing list for your tour around the world.
Will you go on multiple-day hikes?
Will you be in cold or warm areas?
Will you do city trips?
Will you spend most of your time at beaches?
Will you discover the jungles?
Or do you want to do a bit of everything on your trip?
If you …
Go on multiple day hikes,
you probably need hiking boots / trail runners, a rain jacket and functional clothes (fleece, merino wool shirts and socks, zip-off pants). Also, you should think about a layering systems (base layer for its moisture wicking ability, mid layer for heat retention, hard shell to keep the wind and rain out; especially if you hike in areas where the temperature can drop rapidly.
Go to warm areas or tend to stay at tropical beaches,
you probably don't need hiking boots, long outdoor pants or a really warm fleece jacket. Enough sunscreen, a hat or a second swimming pants might be more important in this case. If you want to go snorkeling most of the time, you should even think about taking swimming googles and a snorkel with you.
We will be in warm and cold areas, will do multiple day hikes and also tend to go snorkeling and diving at paradise beaches.
That means, that we need clothes for all weather conditions, but we don't want to pack too much (weight, hassle…).
Our packing list for the world tour
This is how we packed for the trip. It can serve you as a good inspiration for your own packing list!
Tops, t-shirts & pullover
Janice
Top/t-shirts (10x)
Undershirts (1x black, 1x white)
Black cardigan (1x)
Grey fleece pullover (1x)
Thin long arm shirt (2x)
Sport shirt (1x – long arm)
Sport top (1x)
Ralph
T-shirts (7x)
Long-sleeve shirt (1x)
Shirt (2x)
Fleece (1x)
Fleece thin (1x)
---
Pants / skirts
Janice
Jeans (1x)
Lightweight cloth pants (1x black and 1x green)
Short sleeping pants (1x)
Leggings (1x)
Tights (1x)
Short pants (1x jeans grey, 1x jeans blue, 1x cloth pants black)
Long skirt (1x)
Short, black cloth skirt (1x)
Dress (1x)
Zip-off pants (1x)
Ralph
Jeans (1x)
Zip-off pants (1x)
Sport pants (1x)
Shorts (2x)
Swimming pants (1x)
Rain pants (1x)
---
Jackets
Janice
1x Soft shell jacket (1x)
1x Rain jacket (1x)
Fleece for inside rain jacket (1x)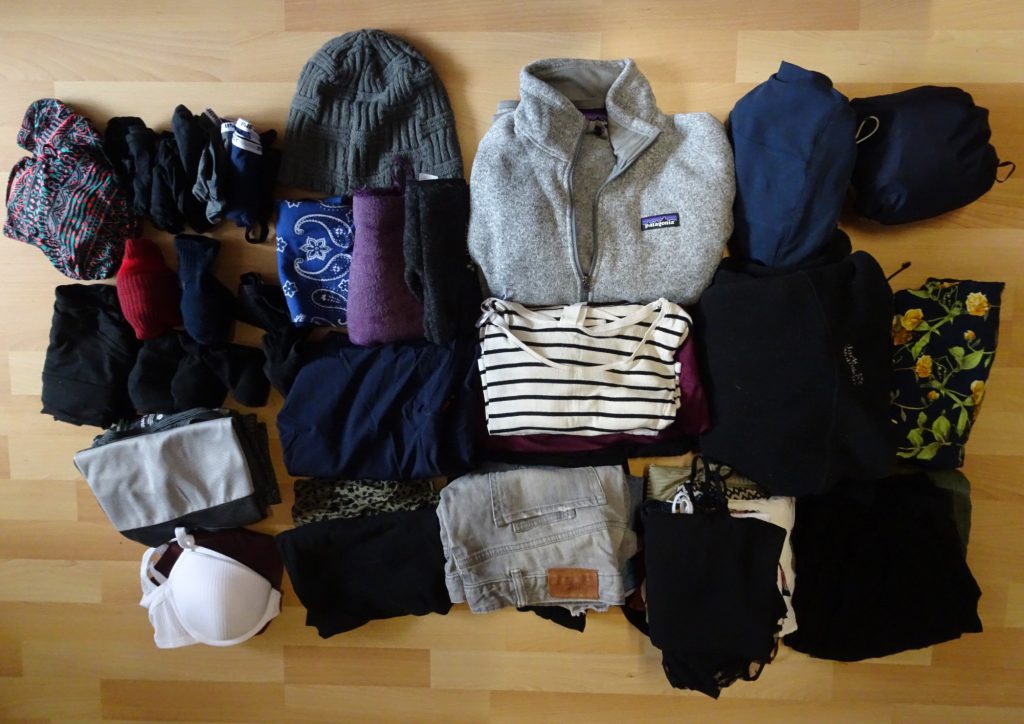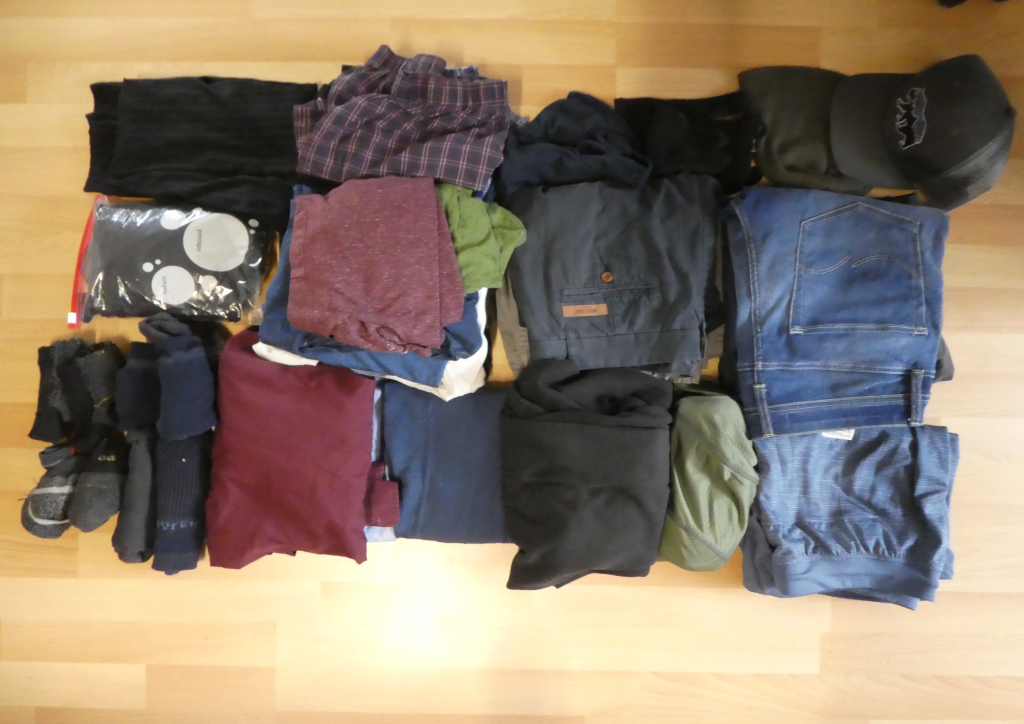 ---
Shoes
Janice
Sandals (1x)
Flip flops (1x)
Hiking boots (1x)
Sneakers (1x)
Ralph
Flip flops (1x)
Sneakers (1x)
Trailrunners (1x)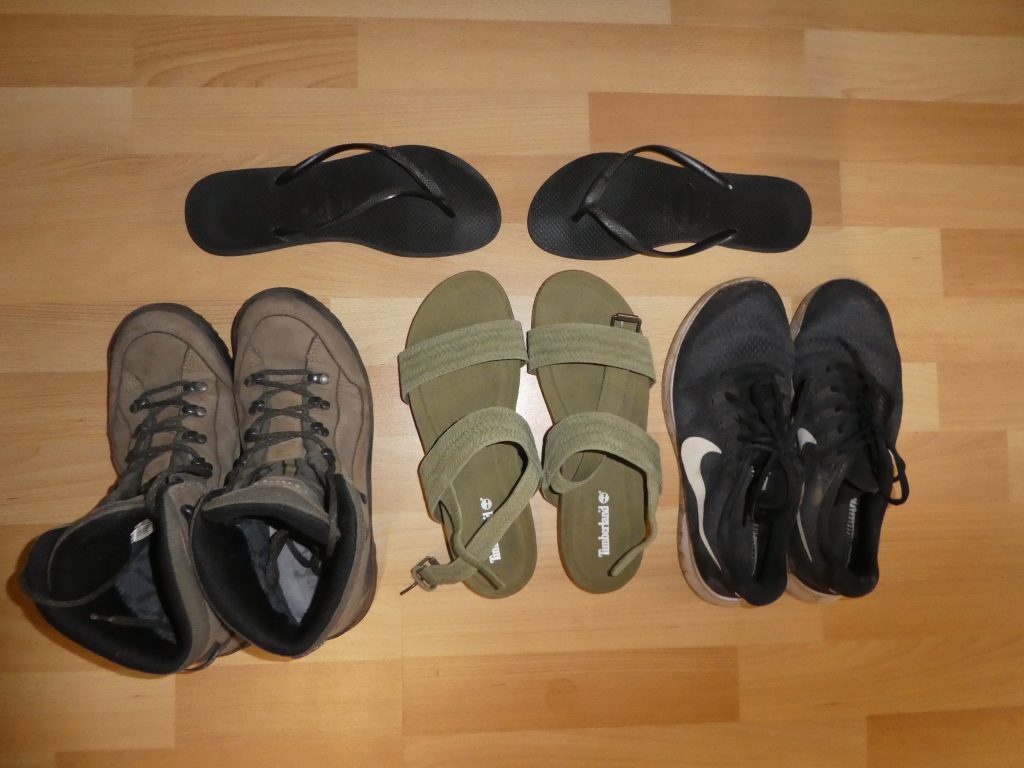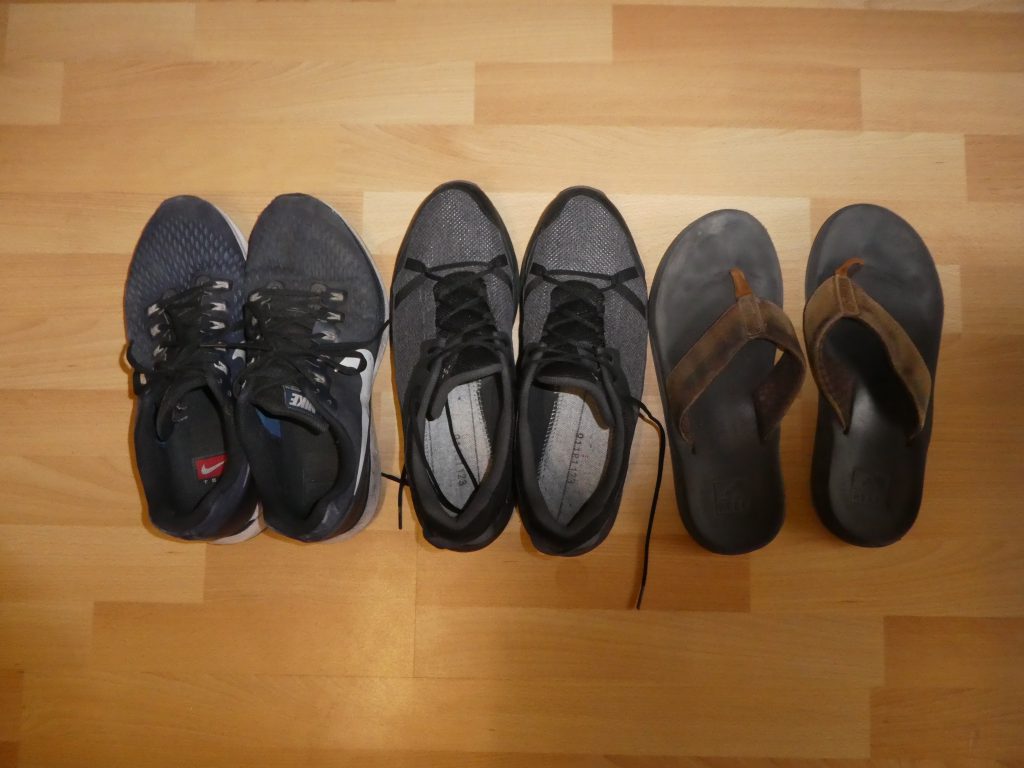 ---
Underpants
Janice
Functional shirt and pants (1x)
Bra (1x black and 1x white)
Underpants (9x)
Sport bra (1x)
Socks (2x short, 3x long) & 2x merino wool socks
Ralph
Underpants (7x)
Socks (6x normal & 2x merino wool socks)
---
Others
Janice
Bikini (1x)
Buff (1x – loop scarf)
Hat (1x)
Gloves (1x)
Scarf (1x- thin)
Travel towel (1x)
Rain pants (1x)
Bag for dirty clothes and bag for shoes (1x)
Water bottle (1x)
Sleeping mask (1x)
Sun glasses (1x)
Inflatable neck pillow (1x)
Packing cubes
Ralph
Buff (1x)
Hat (1x)
Cap (1x)
Gloves (1x)
Travel towel (1x)
Water bottle (1x)
Sun glasses (1x)
Packing cubes
Janice & Ralph
Pocket knife (1x)
Spork (2x)
Foldable silicone cups (2x)
Head torch (2x)
Washing line (1x)
Neck pillow inflatable (1x)
Combination lock (1x)
Sleeping inlet (2x)
Star realms (game)
Playing cards
Toilet paper (you never know ;))
---
Cosmetics & medicine
Janice
Soap for washing hair and body
Soap case
Bamboo tooth brush
Deodorant creme
Face cream
Hair brush
Q-tips
Pincette
Toilet bag
Shaver and razor blades
Hair tie
Moon cup
Mascara & Kajal
Makeup remover
Cotton pads
Ralph
Hair spray
Soap for washing hair and body
Soap case
Bamboo tooth brush
Deodorant crème
Toilet bag
Shaver and razor blades
Scissors
Lenses & cleaning liquids
Janice & Ralph
Tooth paste
Sun screen
Nail scissors
Ohropax
Disinfectant
Travel detergent
Wet wipes
Paracetamol
Wound disinfection
Plasters, including blister plaster
Mosquito spray
Malaria pills
Gauze bandage
Tape
Elektrolyt-Glucose-mix
Anti-diarrhea pills
Anti-congestion pills
Rennies
Altitude sickness pills
Travel sickness pills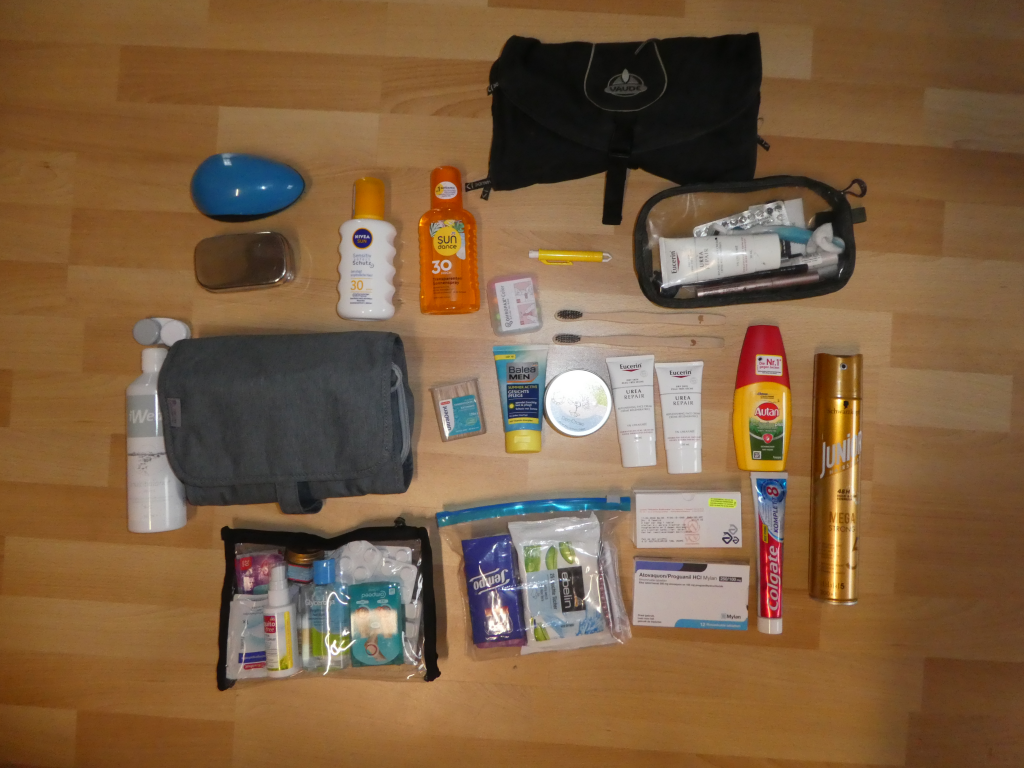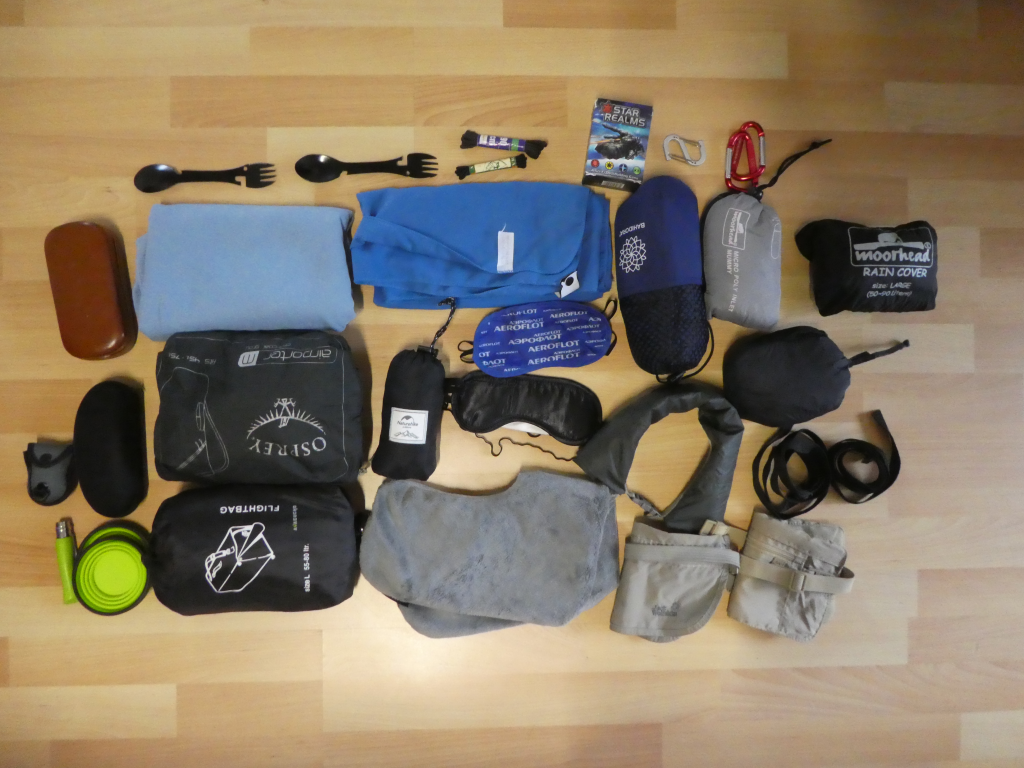 ---
Backpacks, daypacks & others
Janice:
70 L Jack Wolfskin backpack (already 12 years old). Separate rain protection
36 L Osprey daypack with integrated rain protection
Ralph:
70 L Osprey backpack with integrated rain protection
24 L Osprey Stratos daypack with integrated rain protection
Janice & Ralph
18 L foldable and ultra-light TOPNACA daypack (sharing it with Ralph)
Travel money bag
10 L Osprey dry bag
12 L Packsafe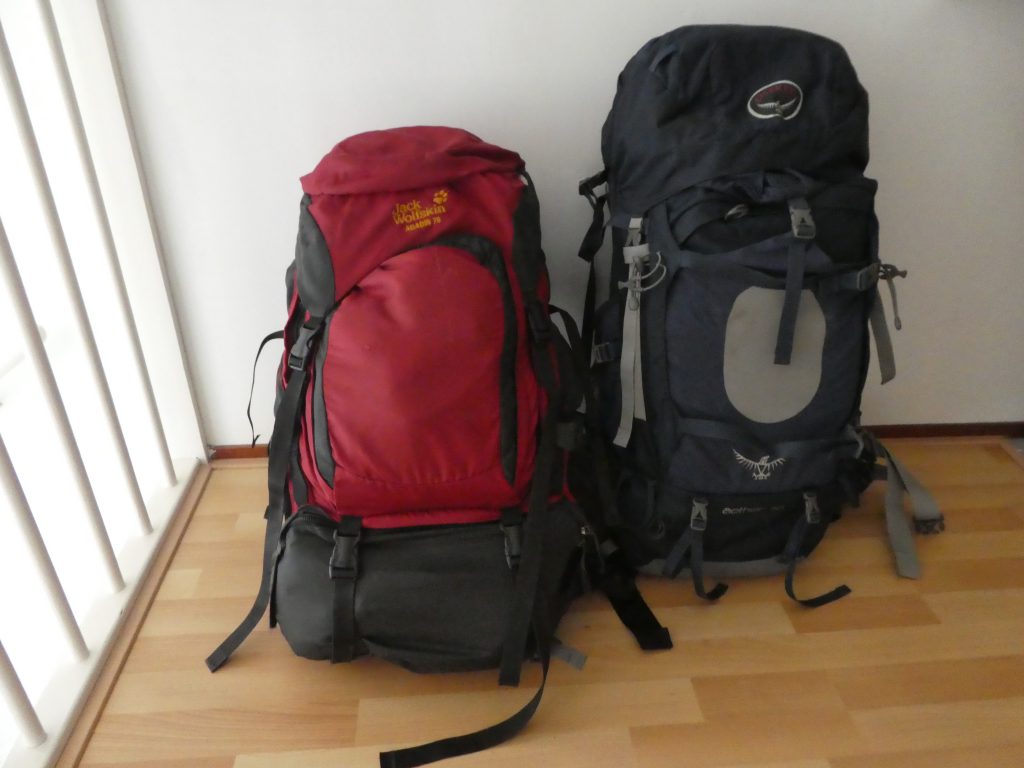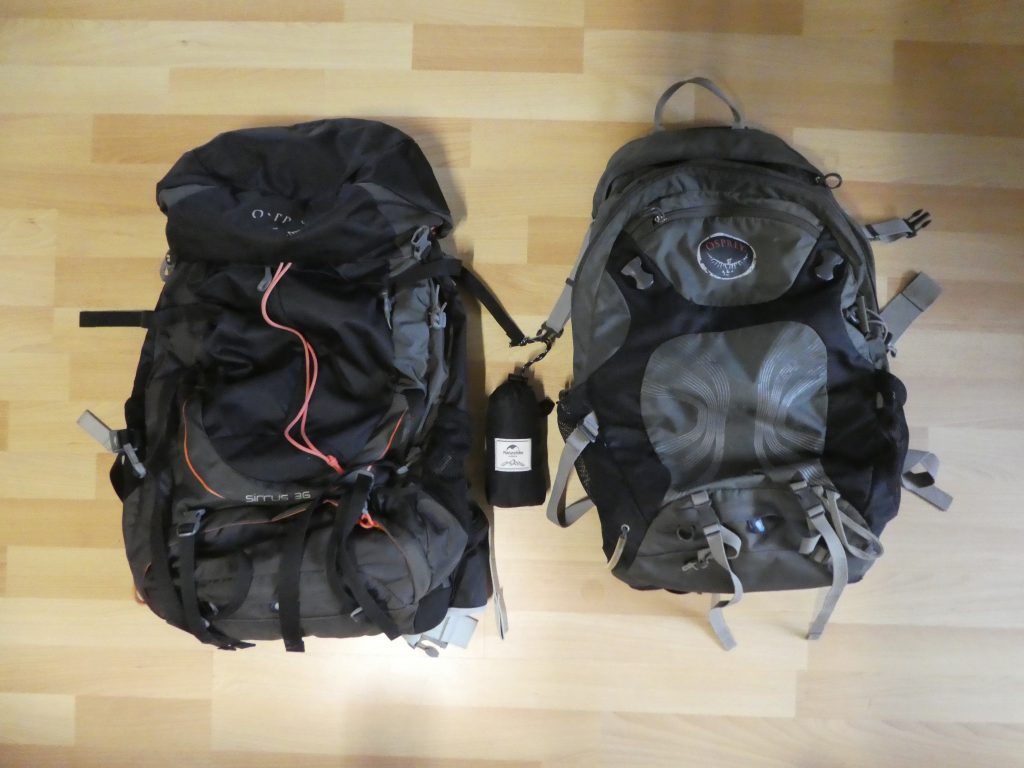 ---
Documents
Passports
Booking confirmations (flight, bus, accomodation)
Vaccination certificate
International driver license
Scratch pad
Pens
Very small address book
Credit cards (master and visa)
Global health insurance
Passport photos
---
Electronics
Laptop (1x)
Tablet (1x)
External hard drive (1x)
Camera (2x)
Tripod (1x)
Go Pro Hero Black 5 (1x)
"Spotify Premium"
Headphones (2x)
Powerbank (2x)
Travel adapter (2x)
TAN-generator (2x)
E-reader (2x)
UV water filter (1x)
Chargers
SD cards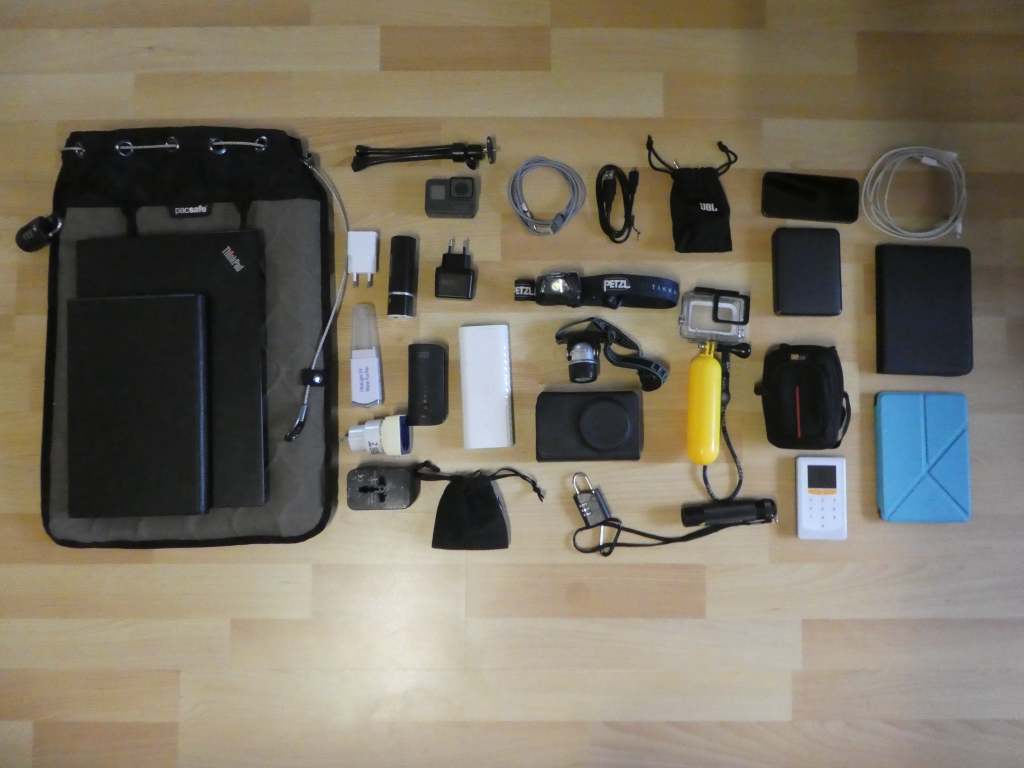 We hope that the packing list for a tour around the world will help you while packing. If you follow these three aspects, you will be able to create your own perfect packing list:
Think about what kind of travel you will do and how the weather circumstances in your destinations will look like.
Try to pack as light as possible.
Take our packing list as an inspiration.
Do you go on a multiple day hike and don't know what to pack? Then read our post about 'Torres del Paine packing list: How to pack for the W-trek!'
Which items do you think should not miss while writing a packing list for a trip around the world?