Imagine that you are surrounded by unspoiled nature, as far as the eye can see. Hiking from one highlight to the other in almost complete silence; no cars, no streets, no big buildings – far away from the 'fast' world, breathing clean. You listen to the sound of birds, branches snapping below your feet, the Patagonian wind, and now and then a thunder created by a vast avalanche far up the mountain. When you open your eyes you see condors, hawks, foxes, a puma (if you're (un)lucky?!), glaciers, floating icebergs, stunning valleys, azure lakes, streams and rivers that are surrounded by massive mountains.
Welcome to Torres del Paine National Park!
In total we hiked about 85 km over five days. At the start of our hike, the weather conditions looked bad with rain every day. You know what they say: you cannot forecast the weather in the mountains. In the end, we had quite a lot of sunshine and just a little bit of rain, which mostly fell during the night. We carried all our gear and supplies on our back: tent, sleeping bags, sleeping mats, cooking set, clothes and food.
In Torres del Paine you can do day trips, the O-trek (about 10 days) and the W-trek (about 5 days). We hiked the W-trek. The times below are as indicated on the map of the National Park, but it took us never that long:
1st day: Paine Grande camping site – Grey camping zone (11 km, 3.5 h).
2nd day: Grey lodge – second hanging bridge lookout – Paine Grande camping site (18 km, 7.5 h).
3rd day: Paine Grande camping site – Británico Lookout – Francés camping zone (20.3 km, 9 h).
4th day: Camping Francés – Las Torres camping zone (16.6 km, 6.5 h).
5th day: Las Torres camping zone – Las Torres Lookout – Las Torres camping site (18.8 km, 9 h).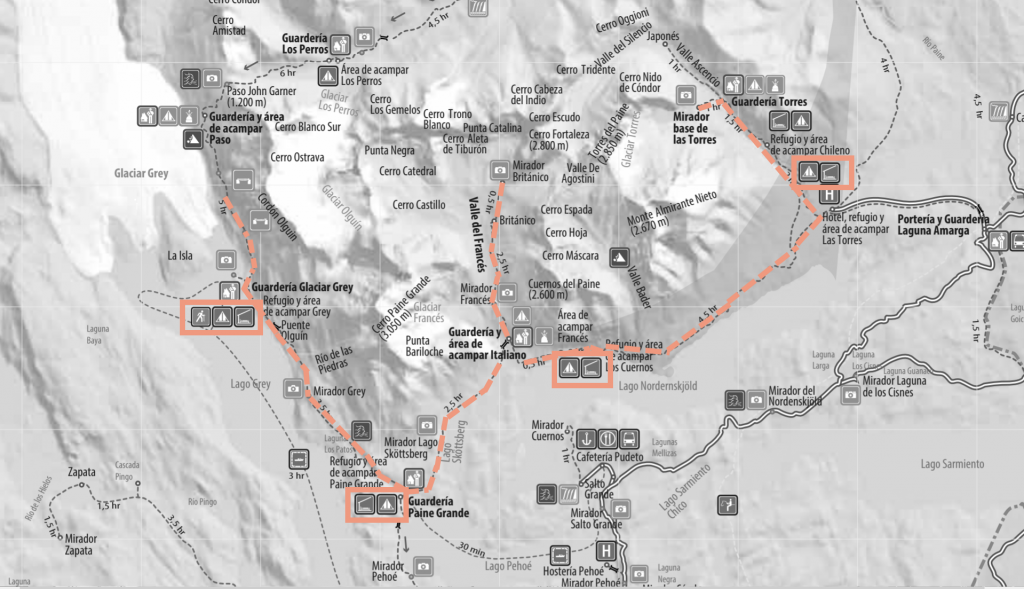 Day 1 (11 km, 3.5 h):
We took a 3-hour bus ride from Puerto Natales to The Torres del Paine National Park (Pudeto). We saw Chilean Flamingos, Nandus and Guanakos – lamas that aren't lamas). The bus stopped at the administration where everyone had to leave the bus. Here you could buy the park ticket (if you didn't already bought one) and register.
At Pudeto, a ferry left to the Paine Grande Lodge and camping site. We were on time to catch the first ferry. However, many people arrived before us by car, the ferry was full and we had to wait for 2 hours. The trip to Paine Grande took 30-minutes and treated us with great views of the mountains and the first glacier. We had a mix of Patagonian weather: sun with a super strong wind.
At Paine Grande we started our hike and teamed up with another hiker. This was our first time hiking with a heavy backpack. Luckily the first day was going to be a short one; perfect to getting used to hiking under such conditions. We started by climbing a green valley and after reaching the summit we saw a forest of leafless and white-stemmed trees. Apparently, parts of the park burned down by forest fires caused by irresponsible actions by tourists in 2005 and 2011 (e.g. burning toilet paper or lighting a campfire in unauthorised areas).
We continued our hike, while our knees and backs were tested by the weight of our backpacks; so far so good. After a very long climb we could see Lake Grey and saw our first iceberg. The intense blue iceberg made us exited and made us crave for more.
Glacier ahead!
However, no pain, no gain. We continued our struggle uphill and finally made it to Grey lookout, the highest point of the day. An immense glacier lay before us and stretched as far as the eye could see. This amazing view blew us away (figuratively and literally by the strong wind) and we enjoyed it. We walked down, half climbing, using small streams as our path, while the glacier continuously amazed us. Our legs were tired and our backs sore, but we finally saw our campsite.
We mustered our last strength, walked the last few miles, checked-in and setup our tent. At each campsite you can only cook at assigned areas to prevent wildfires. After cooking and eating our "adventure food" – a low weight and high-energy dehydrated hiking meal – which tasted amazing, we decided to check out the glacier up close. Floating icebergs, small pieces of ice and an immense wall (yes, exactly like Game of Thrones) amazed us once again. We sat in silence and could hear the ice moving, scraping against each other and the shore. It was a great day.
Day 2 (18 km, 7.5 h):
We woke up around 7 o'clock and our tent was very damp. It did not rain, but we apparently did not open all ventilation "windows", woops. Our goal was to hike towards Italiano ranger station (day 1 + 2.5 h), as we would stay there for the night. We first hiked, however, in the opposite direction towards the glacier. There are three hanging bridges that gives you a great view of the glacier. Because the hike to the station is very far we decided to only go to the first one. While talking to a fellow hiker, she convinced us to go to the second bridge, because of the much better view.
50 shades of blue
After climbing for 2 hours – with only a daypack – we reached the second bridge and the view was indeed incredible. You could see multiple glaciers feeding glacier Grey.
We enjoyed the view for some time and headed back to camp to pick up our backpack. The route was the same as day 1, so we exactly knew what to expect. At some point Ralph was showing Janice a bird (most likely a condor) and Janice was not looking where she walked and fell down. She tore her pants and her knee was bleeding. Luckily, she could walk on.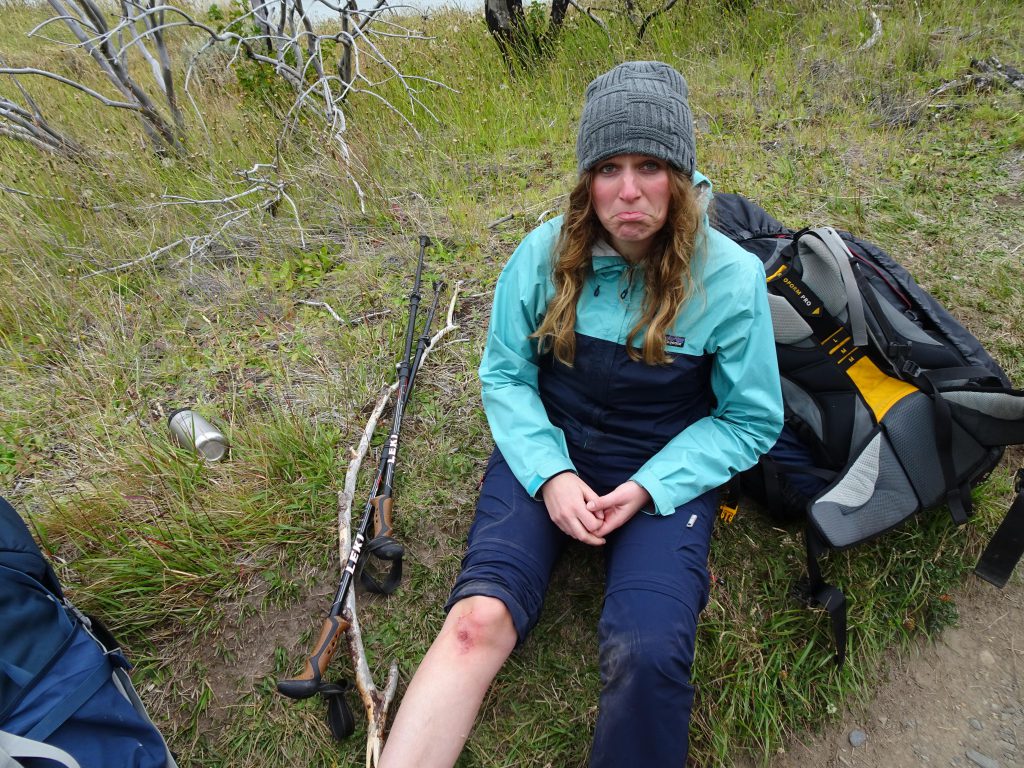 After we arrived at Paine Grande (start day 1), our bodies had no energy left; day 1 done. Unfortunately, we booked our campsite at Italiano, which was another 2.5-hour long hike. We decided to stay at Paine Grande, because the weather forecast did not look good. We needed good weather for spectacular views at the Francés and Británico lookout. Earlier a guy in the hostel told us that it would be useless to visit Británico if the visibility was poor at Francés. We thought we could probably skip Británico and instead walk the 2.5 h to Italiano.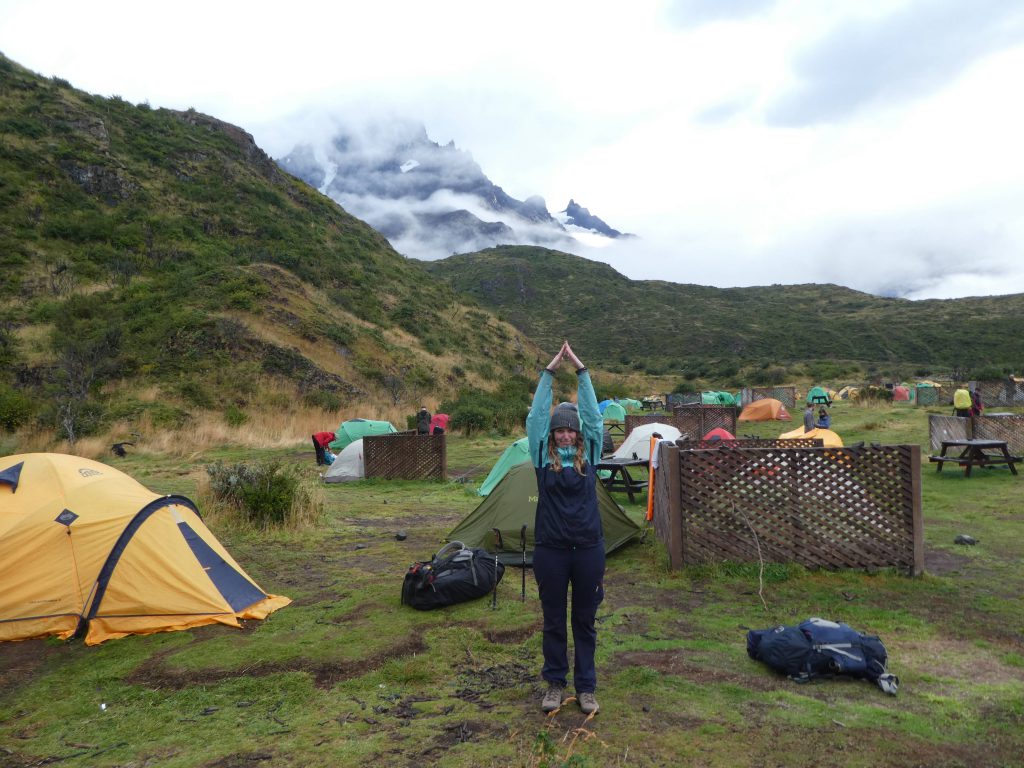 To be continued…