Endless beaches and dunes, abundant wildlife, outdoor activities such as hiking, cycling, kite surfing, swimming, vitamin SEA, tranquillity, and the possibility to escape the digital life and to enjoy the moment… Are you looking for such a place, hold your horses! We highly recommend these three hikes on the Dutch Wadden Island Terschelling!
Where is Terschelling and how to get there?
Terschelling is an island in the Dutch part of the Wadden Sea in the North of the Netherlands. You can travel from the mainland with a ferry (Rederij Doeksen) that departs from the harbour of Harlingen. The trip Harlingen-West-Terschelling (main town on Terschelling) takes about 1 h 50 min by ferry (cheapest option), 50 min by fast-ferry (more expensive) and 60 min by water taxi (most expensive).
When to visit Terschelling
Terschelling is worth visiting year-round. However, it might not be as pleasant for everyone during winter. If you prefer higher temperatures, less wind, and want to get a healthy tan, you should visit the island between June and September. We visited Terschelling in April, which was ideal for cycling and hikes. However, it is always important to keep a close eye on the weather, as it can be highly unpredictable on the Wadden Islands. For example, early April we had sun and temperatures reaching 26 degrees Celsius. Yet, the temperature dropped to 5 degrees Celsius merely a week later. At the end of our trip, we were surprised by strong winds, snow, and hailstorms.
Where to stay in Terschelling
Terschelling is a relatively long island, as it is almost 30 km long. By comparison, Schiermonnikoog is only 18 km long. Therefore, if you want to explore the entire island, the centre of the island is a great place to stay. Our bed and breakfast, the Cyprian, was in the centre of Terschelling, in a tiny town called Baaiduinen. If you prefer larger towns, with plenty of restaurants and bars, West-Terschelling might be the place for you. You can easily find accommodations via VVV Terschellling, directly over the host's website, or with sites such as booking.com.
3 hikes you should not miss out on while visiting Terschelling
On our 4-day-trip on Terschelling, we did several short and longer hikes. Below, we will present our highlights that you should not miss!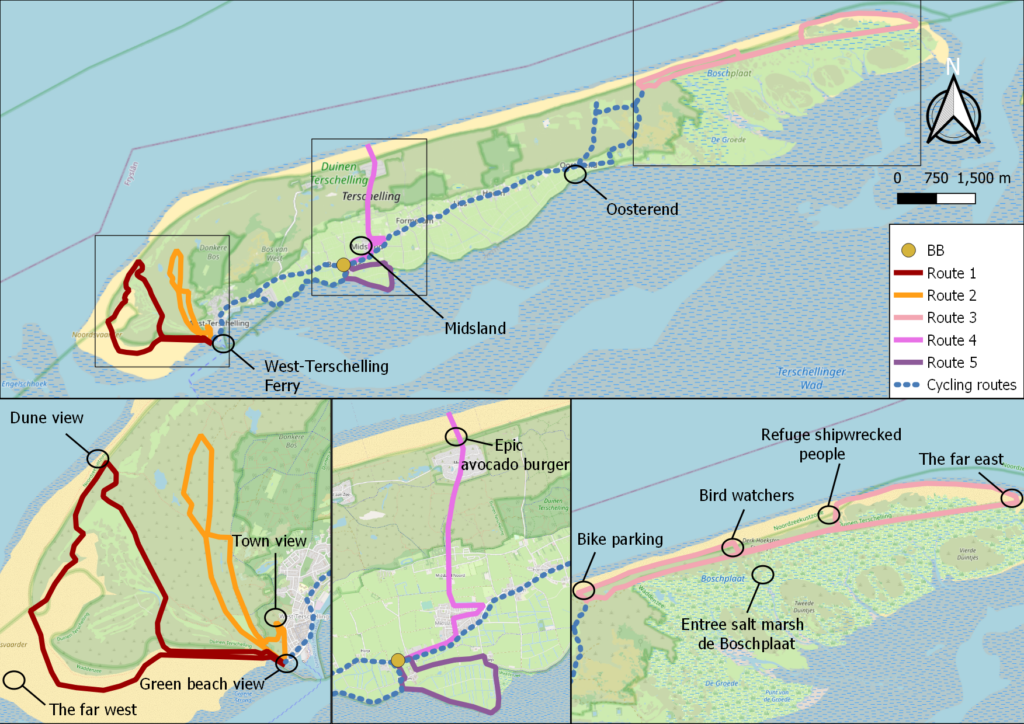 1) Hike through the Kroonpolders with stunning views from the highest dune of Terschelling
The western part of Terschelling is stunning! You can hike from the Wadden side at West-Terschelling to the North Sea side. Near the statue overlooking the green beach, many hikes and cycling routes on Terschelling start (POI 1). When we started, it was low tide, and we followed the green beach and the low dune ridge. From the green beach, you can enter the area via a small path (you can see it on google earth or openstreetmaps).
Walk through a bit of wilderness towards the goal: the highest dune of Terschelling (POI 2). Slowly, you see the dune getting bigger and bigger, after arriving at the dune's foot, you only must climb it to enjoy the stunning view. This is a great spot for a lunch break. Afterwards, you can continue towards the western side of the island (POI 3). From here, you can almost touch Vlieland. While enjoying the view and nature's sounds, you can slowly stroll towards the Brandaris (lighthouse) (POI 4). The raw nature of this hike is simply epic!
Distance: circa 10 km; Duration: circa 3.30 h
Points of interest
Starting point Green beach – POI 1: 53°21'26.90″N; 5°12'33.49″E
Highest Dune of Terschelling POI 2: 53°22'28.36″N; 5°10'42.52″E
The far west POI 3: 53°21'15.08″N; 5° 9'52.09″E
Town view West-Terschelling POI 4: 53°21'31.36″N; 5°12'41.48″E
2) Hike through the Boschplaat to Noordkaap, the most north-eastern point of Terschelling
Western part of the island: check! Let us head east! First, from Baaiduinen, you must cycle about 10 km towards the starting point of this hike. Because we had no gps/mobile phone, we first cycled towards Oosterend, and from there Ralph knew the way. During the trip from Baaiduinen towards Oosterend, you will cross many small and cute towns, where you normally can buy bread, ice, and other delights. When you leave Oosterend, you leave civilisation behind and cycle through a landscape consisting of old dunes covered with low shrubs. In August, the whole landscape will turn purple, as heath is dominating the vegetation.
After parking your bikes (POI 1), you can finally start the hike by entering the Boschplaat, which is a huge nature reserve on Terschelling. The area comprises of dunes and salt marshes and is home to 65 breeding birds. During the breading season (15 March till 15 August) you are not allowed to enter the area. However, you can hike along the dunes/"stuifdijk" towards the far east of Terschelling.
After a couple of km, you can visit the bird observation hut (POI 2), manned by volunteers of Staatsbosbeheer (state forestry service). Outside the breeding season, you can enter the salt marsh (POI 3). We could not enter the salt marsh because of the breeding season, and have therefore, not included the time and distance into our estimates. Pay attention to the tides, because during high tide you will most likely get wet feet.
Without the escape to the salt marshes, you follow the path along the dunes. We recommend you to climb the dunes every now and then, because the view of the salt marsh is great. At some point, you will see the lighthouse of Ameland, the dunes becoming lower and lower, which indicates that the end of the island is near. Finally, after 2.5 h of walking, you will reach the most north-eastern point of Terschelling (POI 4)! Time to refuel!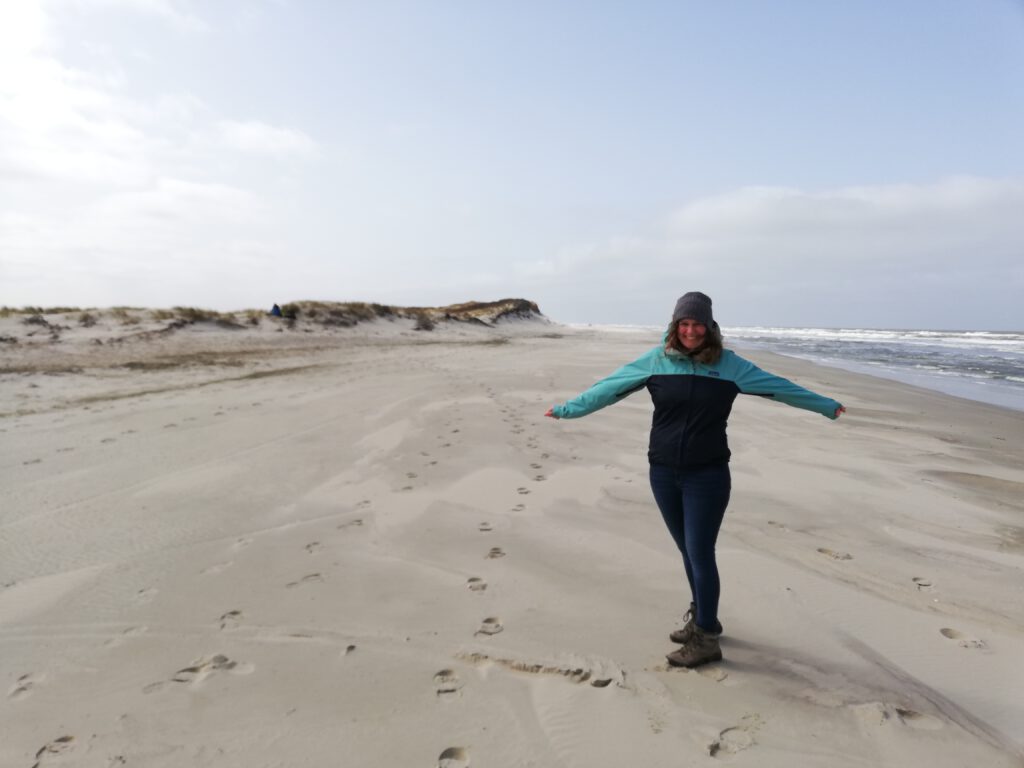 Time to head back! You can walk back via the beach. We did this, but regretted this decision, because we had very strong headwind! Near the refuge for shipwrecked people (POI 5), there is a path where you can climb the dunes to walk near the salt marsh, protected from the wind. This is truly idyllic. After a while, you can choose to go back to the beach, and walk for a couple of km through the dunes. Then, you will see the Heartbreak hotel becoming bigger and bigger, indicating that you are almost there. At "strandpaal 19" – poles that mark the location on the beach, you can cross the dunes again to arrive at the bike parking (POI 1).
We had to cycle back for 10 km with strong headwinds. But who knows, maybe you have the wind in your back. That is island life, right?
Distance: circa 18 km; Duration: circa 5 h
Points of interest
Starting point Bike parking POI 1: 53°25'29.60″N; 5°24'36.67″E
Bird watchers POI 2: 53°26'1.96″N; 5°27'12.82″E
De Boschplaat POI 3: 53°26'2.81″N; 5°27'36.98″E
The far east POI 4: 53°26'28.63″N; 5°31'45.13″E
Refuge ship wrecked people POI 5: 53°26'18.00″N; 5°28'10.52″E
End Bike parking POI 1: 53°25'29.60″N; 5°24'36.67″E
3) Free walking hikes (vrij wandelen) in West-Terschelling
On our last day, we still had a couple of hours to kill before our ferry departed. Therefore, we decided to hike through the Kroonpolders. You can store your backpacks in lockers in the waiting room at the harbour (POI 1). Like the first hike, you start at the statue (POI 2) and this hike goes through a wild but slightly different landscape (POI 3). It is not a pre-set tour, so you can freely walk along the paths and at some point, go back (POI 4) and walk, again, in the direction of the Brandaris in West-Terschelling.
As a last stop, to view West-Terschelling and the harbour from above, we climbed an old dune (POI 5). At this spot, you can find old bunkers from the second world war. The view is stunning, as you can observe the town and the wild landscape. A perfect hike to do before you return to the mainland.
Distance: circa 7 km; Duration: circa 2.5 h
Points of interest
Starting point harbor West-Terschelling (POI 1): 53°21'26.74″N; 5°12'59.06″E
Statue (POI 2): 53°21'21.63″N; 5°12'42.87″E
Free walking path (POI 3): 53°21'28.09″N; 5°12'30.70″E
Turning point (POI 4): 53°22'55.99″N; 5°12'3.75″O
View on West-Terschelling (POI 5): 53°21'31.55″N; 5°12'41.34″O
Short random hikes on Terschelling
Next to these longer hikes, you can do some shorter hikes, which are unplanned and nice. For instance, you can start at Baaiduinen and hike to the beach near Midsland aan Zee. Enjoy the picturesque centre of Midsland and continue your journey to visit the beach. We highly recommend you try the delicious Avocado burger at Strandpaviljoen De Branding.
You can also hike the opposite direction, towards the Wadden Sea. Depending on the time of the day, the tide is low or high. At low tide, you can closely inspect the mudflat and see mussel beds in the distance. Our advice: take a cold beer, find a bench with view on the Wadden Sea and listen to what nature is telling you.
4 days digital detox on Terschelling
Last, but not least, Terschelling is a great place to turn off your digital devices, such as your phone, tablets, laptops, and the television. At home, we often felt overwhelmed with commercials, social media and "just browsing the web". Therefore, we decided to digitally detox during our 4-day-trip on Terschelling. Why should you try it? You will have much more time to enjoy the island, you will be more mindful in everything you do, and experience that it is fun and easy to live without digital devices. Furthermore, you will completely relax, and your mind enters a state of serenity.
But how to get from A to B, where to eat, you ask? Buy a map of the island and/or ask people for directions. Food? Stop at cafés or restaurants that look nice instead of reading 100 reviews beforehand. What to do with all your time when you do not watch TV or browsing the web? Get a book, bring board games or simply talk to each other. We really liked our 4 days without digital devices and will do it again soon!
We spend four days on Terschelling and spend nearly all the time hiking and cycling on the island. While turning off our electrical devices, we were really able to relax and ease our minds.
Are you interested in what kind of other outdoor activities you can do on Terschelling? Then check out our post about 12 epic outdoor activities you can do on the Dutch Wadden Island Terschelling!
What are your favourite hikes on Terschelling? Let us know in the comments!