3 Leches cake (three milk cake) is a traditional desert from Latin America and if you ask us, it is one of the most delicious deserts on earth! The only reason why we do not make it every week is that we love it too much and we would eat too many calories. Attention: it is very hard to stop eating this delicacy!
What is a 3 leches cake?
It is a soaked cake desert. The cake acts as a sponge that soaks up three varieties of milk: evaporated milk, condensed milk and whipped cream.
Depending on the country, the 3 leches cake can be prepared in different ways. For example, chocolate, cinnamon, coffee, an alcoholic beverage or different fruits can be added. If you add chocolate powder to the milk mix, it turns into a 3 leches chocolate cake.
However, more variations are possible. For example, you can add dulce de leche or whole milk. In that case, it is called 4 leches, because another type of milk is added. If you also add coconut milk, it will turn your desert into a 5 leches cake.
In our recipe, we added whole milk, thus making it a 4 leches cake.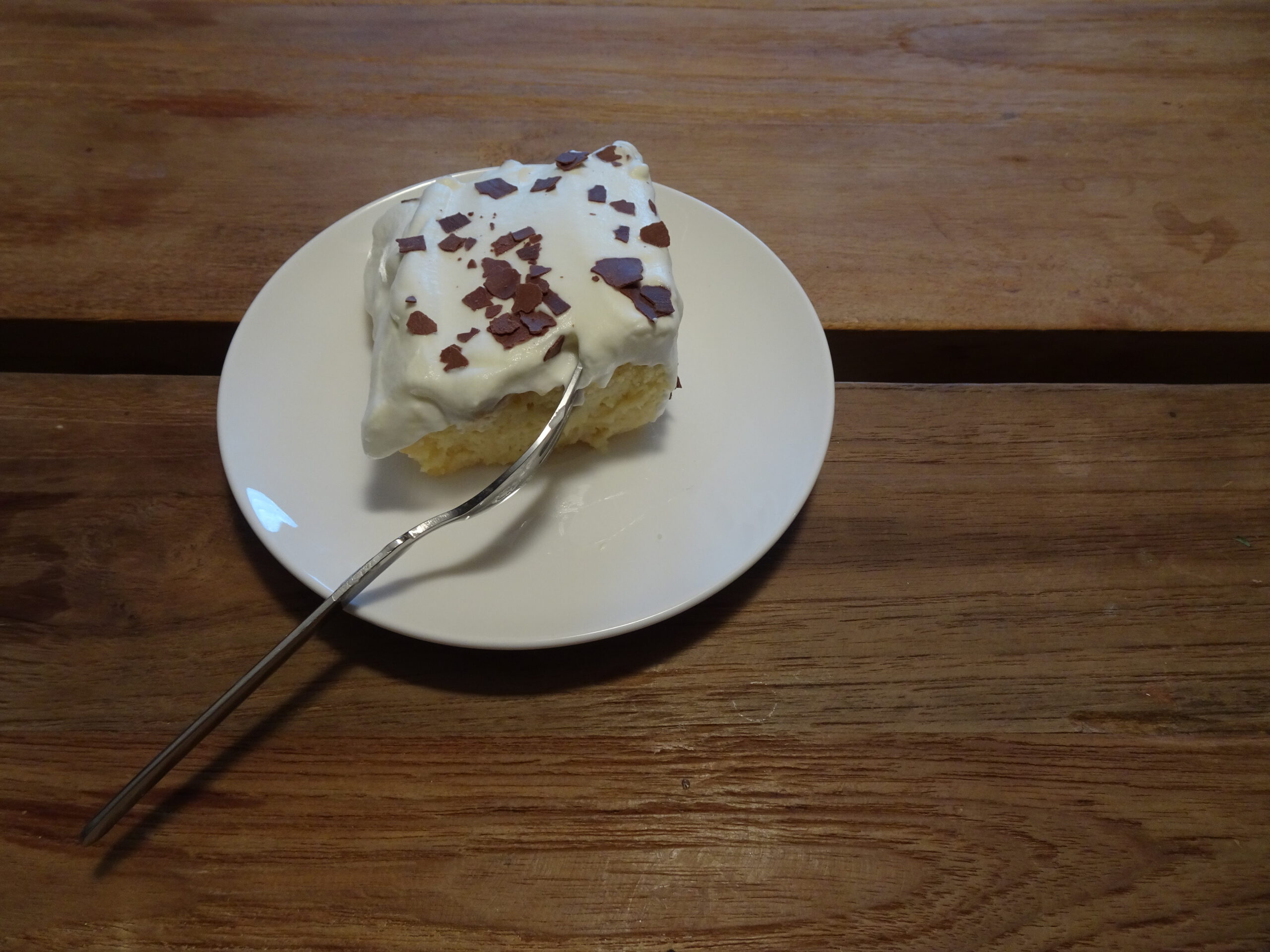 The origin of 3 leches
The first time Janice ate 3 leches cake was in Costa Rica. Her host mother and host sister made it several times while she was living there for a year. Anyway, the origin of this desert is not clear. The desert is very popular in México, Nicaragua, Venezuela, Panamá, Colombia, Bolivia, Peru, Chile, Ecuador, Puerto Rico and other Latin American countries.
Either a producer for tinned milk or of hand mixers probably developed the recipe to use in advertisement. In the 1940s, Nestlé printed pictures of the recipe on milk tins in Mexico. In the 19th century, there were several similar recipes in the Mexican cuisine, which often contain sponge cake soaked in alcohol. These probably were based on other recipes from the European colonial powers. For example, the British trifle and rum cake as well as tiramisu from Italy use the method to soak cake in a liquid.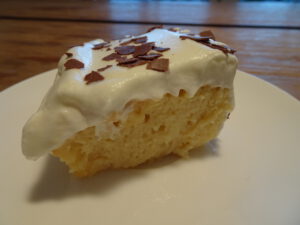 Print Recipe
3 leches cake
A sponge cake soaked in three kinds of milk: evaporated milk, condensed milk and whipped cream. Be careful, this desert is addictive!
Ingredients
250

g

all-purpose flour

2

tsp

baking powder

250

g

sugar

1

pinch

salt

1/2

pkg

vanilla sugar

125

g

butter

(liquid)

5

eggs

250

ml

sweet condensed milk

250

ml

condensed milk (10%)

250

ml

milk

1

tbsp

rum

400

ml

whipped cream

1/2

pkg

vanilla sugar

1

tbsp

sugar

Rasped chocolate

(you can also use cinnamon, strawberries etc. for the topping)
Instructions
Preheatthe oven to 175° C.

Beat 125 g butter with 250 g sugar, a pinch of salt and ½ package of vanilla sugar until fluffy.

Finally, add the flour and backing powder and stir until all is mixed well.

Put the dough into a big baking dish. The dough should be around 3 cm high.

Bake it for around 30 minutes.

Let the dough cool down and prick several small holes in it with a toothpick or something similar.

Mix the sweet condensed milk, the condensed milk, the milk and the rum. Add it equally to the cake.

Cover it with wrapping film and let it rest for at least 3 hours.

Whisk the whipped cream with the sugar and vanilla sugar until stiff, and spread it on the cake.

Decorate with the rasped chocolate.

Cut into squares and serve.
Notes
The 3 leches cake stays good in the fridge for a couple of days. It even tastes better when resting for a little longer.
Do you love cakes as much as we do? Then also try out our German strawberry cake!