Germany has many regional specialties, such as the Swabian spaetzle. Being a German, Janice can confirm that spaetzle are a must-try when visiting the south of Germany. You will not regret it! Anyway, if you make the German egg-noodles yourself or with friends, it is always a special activity. Spaetzle is quite easy to make and simply delicious!
What are German spaetzle?
Spaetzle is a special type of pasta made from eggs, flour and water. In Germany, they often eat it as a side to a main course with meat. However, you can also enjoy it with sauces and gravies. A classic and vegetarian version is spaetzle with cheese and onions (Käsespätzle) or with a mushroom cream sauce. The German pasta tastes the best when made at home. That is why we will show you how to make delicious spaetzle with a mushroom cream sauce.
While spaetzle are very typical in the Swabia region, you can also enjoy it in Austria and Switzerland. Depending on the region, spaetzle can have different names, such as "Spätzla", "Spätzli", "Spatzen", "Knöpfle" (round shape) or "Chnöpfli".
How to make German spaetzle
Traditionally, the Swabian pasta is scraped from a spaetzle board. This technique requires practice. You get relatively thick spaetzle when scraping it from the board. Besides, you can also use a special press to make the pasta. This way you get longer spaetzle. We will show you how to make the self-made spaetzle noodles with a grater. The shape of the pasta is shorter and a bit more round, named Knöpfle.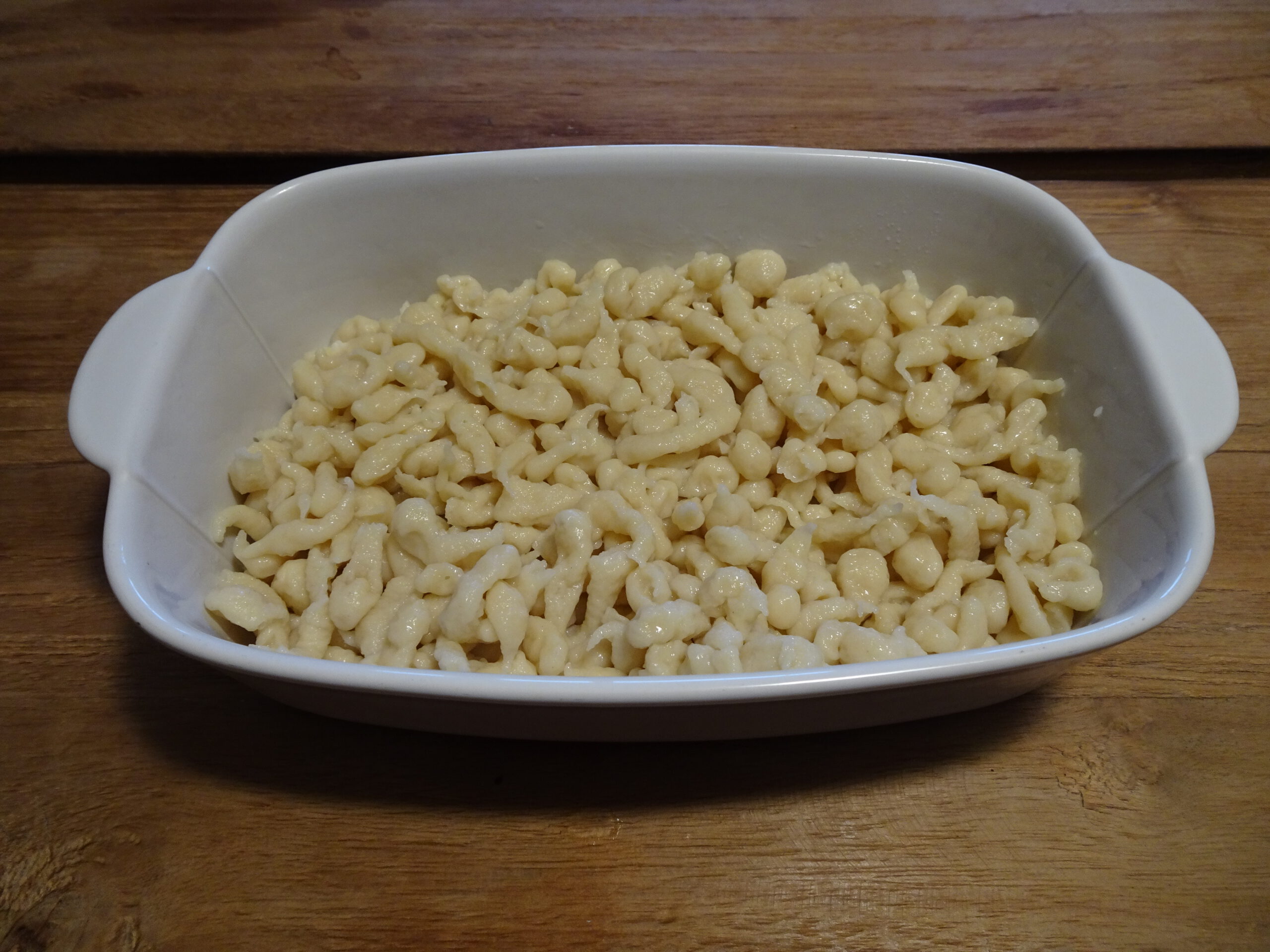 Where to get a spaetzle maker?
We bought this spaetzle maker on Amazon and are very happy with it.
You can also buy it in a German store with kitchen utensils.
We have heard that people used a colander with large holes or a flat grater, instead of a spaetzle maker. However, make sure that the holes are large enough, so that the spaetzle dough can go through them.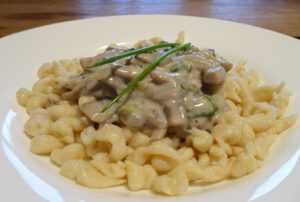 Print Recipe
German spaetzle with mushroom cream sauce
Typical German spaetzle meets a mushroom cream sauce. We will show you how to make this dish at home. It is also a lot of fun to prepare it with friends or family, and it simply tastes delicious!
Equipment
spaetzle maker

cooking pot

Pan

cutting board

knife
Ingredients
Ingredients spaetzle
200

g

flour (type 550)

2

eggs

1

tsp

salt

100

ml

cold water
Ingredients mushroom cream sauce
250

g

champions

1

spring onion (or optional chive)

1

onion

100

ml

cream

100

ml

milk (you can also use more cream instead)

2

tbsp

olive oil or butter

2

tbsp

flour

Salt

Pepper
Instructions
Preparation of spaetzle:
Add the flour, eggs, salt and water to a bowl and stir well. We used a hand mixer, but you can also use a whisk.

Mix until the dough forms a viscous mass, not too liquid and not too solid. The batter is ready when little bubble holes appear when stretching the dough.

Bring salt water to boil in a big pot. Add some of the dough on the spaetzle maker and slide the scraper forth and back, so that the batter can go through it.

The spaetzle are ready after they are floating on the surface. Remove them with a skimmer from the boiling water and place them into a bowl.

Continue, until you finish all the dough.

Serve them warm with the mushroom cream sauce.
Preparation of the mushroom cream sauce
Peel the onion and dice them.

Cut the mushrooms into slices.

Warm the oil or butter in a pan and add the onions when it is hot. Sauté the onions until they're glassy.

Add the champions and bake them.

Add the cream and optional some milk (if you want more sauce).

Take a bit of the warm sauce and add 2 tbsp of flour. Mix well and stir into the sauce.

Bring to taste with salt and pepper and let it simmer for around 10 minutes, until the sauce is thickened. Stir in between.
Notes
The spaetzle will keep their shape if you quench them with cold water after they're cooked.
You can also make more spaetzle, store them in the fridge and reheat them on the next day in a pan. They will last a couple of days.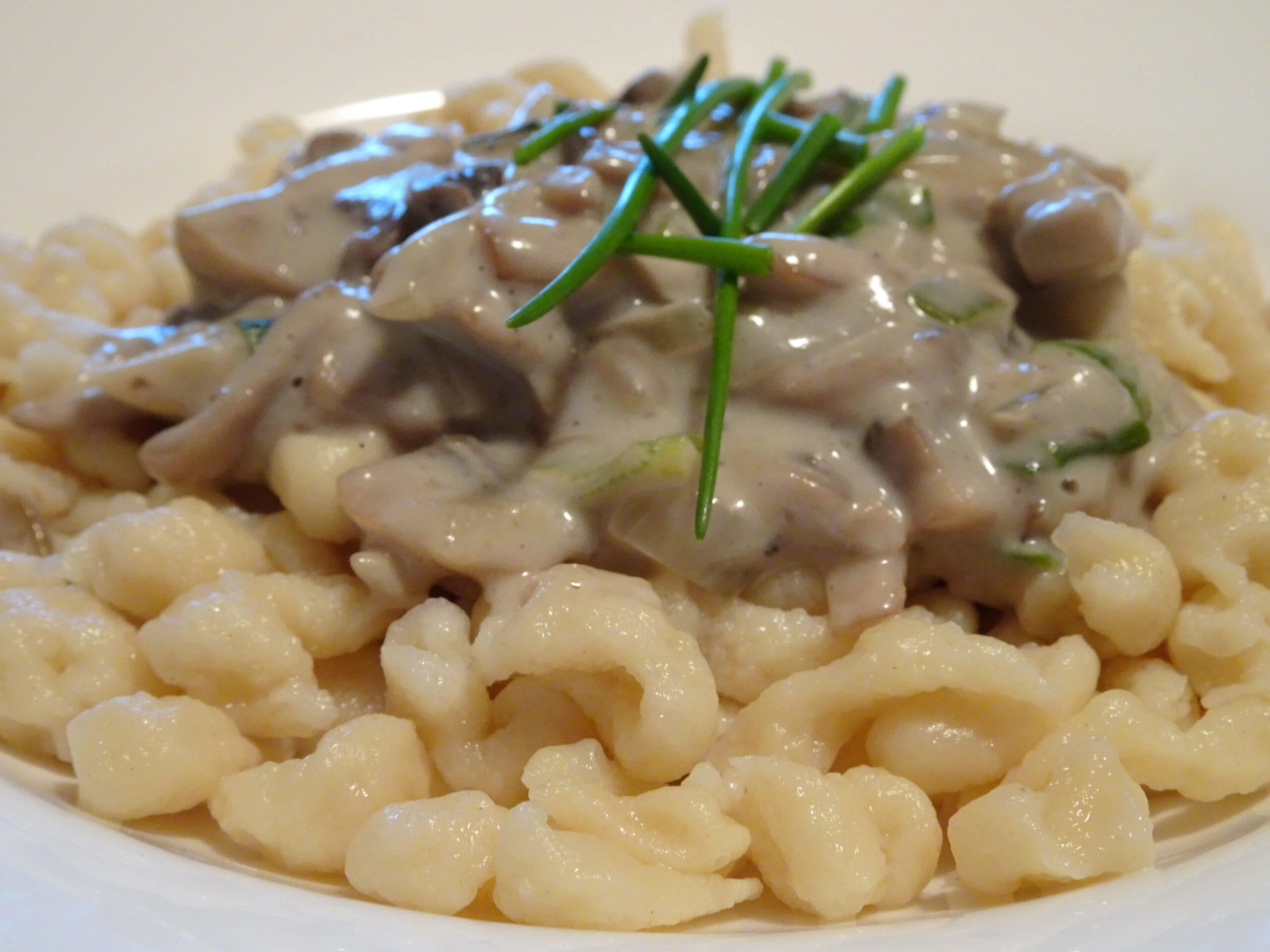 Did you like this recipe? Try our recipe for German Strawberry cake or one of our other recipes from our culinary tour around the world!
What is your favorite spaetzle variation? Let us know in the comments!