Arroz con palmito (English: rice with hearts of palm), is a traditional and delicious dish from Costa Rica that is easy to make! Rice meets hearts of palm, a creamy béchamel sauce with additional vegetables and a crust of cheese.
A typical dish, but many variations are possible. For instance, you can make "Arroz con palmito" with mushrooms, asparagus, chicken or ham. You can either eat it as a main dish and optionally serve it together with a salad, or eat it as a side dish to seafood or fish.
It is a famous and traditional dish in Costa Rica for Easter, but they also eat it on other (feast) days.
"Arroz con palmito" is one of the dishes Janice ate regularly at her Costa Rican host family. Costa Rica is an active producer of hearts of palm from the second half of the 20th century, and is nowadays one of the largest exporters worldwide. Because hearts of palm are readily available and taste great, Ticos (Costa Ricans) eat it very often.
What are hearts of palm?
From the inner core of specific palm trees they cut the heart of palm. Trees from which they produce hearts of palm include the coconut, açaí, palmetto and peach palm, which are native to South and Central America. People call them the artichokes of Latin America, because of their delicate and slightly nutty vegetal flavor. They look a bit like thick, white asparagus and have a creamy and crunchy texture. Next to preparing them in a dish like "arroz con palmito", they also find their way into salads.
In Costa Rica, they often make hearts of palms from peach palms. When using clonal or multi-stemmed palm trees, a moderate harvesting frequency will not kill the trees. The plant has multiple stems (up to 40 on one plant), and therefore can live on. Additionally, the plant recovers fast after harvest. Did you ever try the fruit of the peach palm, called "Pejibaye"? It is a delicious snack in Costa Rica. They typically cook it and fill it with mayonnaise.
Where to get hearts of palm for arroz con palmito?
Fresh hearts of palm are difficult to get outside of Latin America. However, you can find jarred hearts of palm all year around in good supermarkets in Germany and probably also in the rest of Europe. We got them at a large EDEKA store.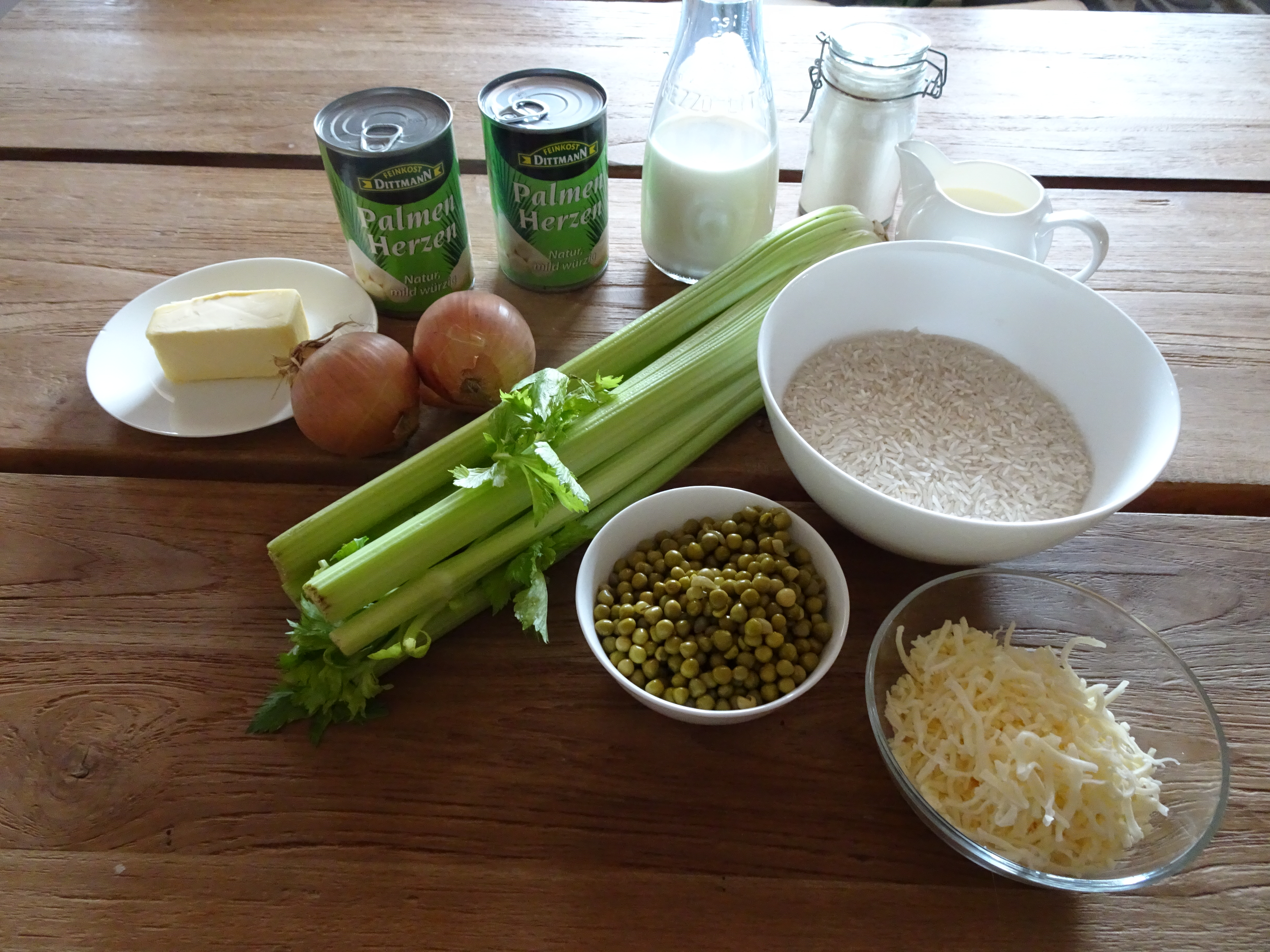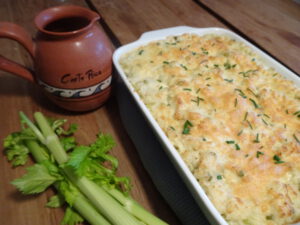 Print Recipe
Arroz con palmito (rice with hearts of palm)
Arroz con palmito (rice with hearts of palm) is a typical Costa Rican dish. Hearts of palm meets rice, a creamy béchamel sauce, additional vegetables and a crispy golden cheese topping.
Ingredients
250

g

rice

600

g

hearts of palm

2

onions

(140 g)

100

g

butter

270

ml

cream

240

ml

milk

280

g

celery sticks

200

g

grated cheese

(we used Gouda, but other sorts are also possible)

2

tbsp

flour

130

g

peas
Instructions
Cook the rice in salted water, until tender. You can also use rice from the day before.

Meanwhile, cut the celery sticks into small cubes.

Peal the onion and cut it into cubes of the same size as the celery sticks.

Cut the hearts of palm into cubes of 0.5 – 1 cm. They should be bigger than the cubes of the celery sticks.

Heat up the butter, add the onions and celery sticks and stir well.

Add the flour and continue stirring.

Add the hearts of palm and mix well.

Add the milk and stir, then add the cream and continue stirring while the sauce is thickening.

Add 60 g of the grated cheese, mix and add the peas.

Now, add the cooked rice and stir.

Bring to taste with salt and black pepper.

Fill the rice mass into a baking dish and top it with the rest of the cheese.

Bake it in the oven for 20 minutes on 200 degrees Celsius, until the cheese starts to get a golden color.
Notes
You can play around with the vegetables. Try mushrooms or asparagus or use different herbs. You can also add garlic.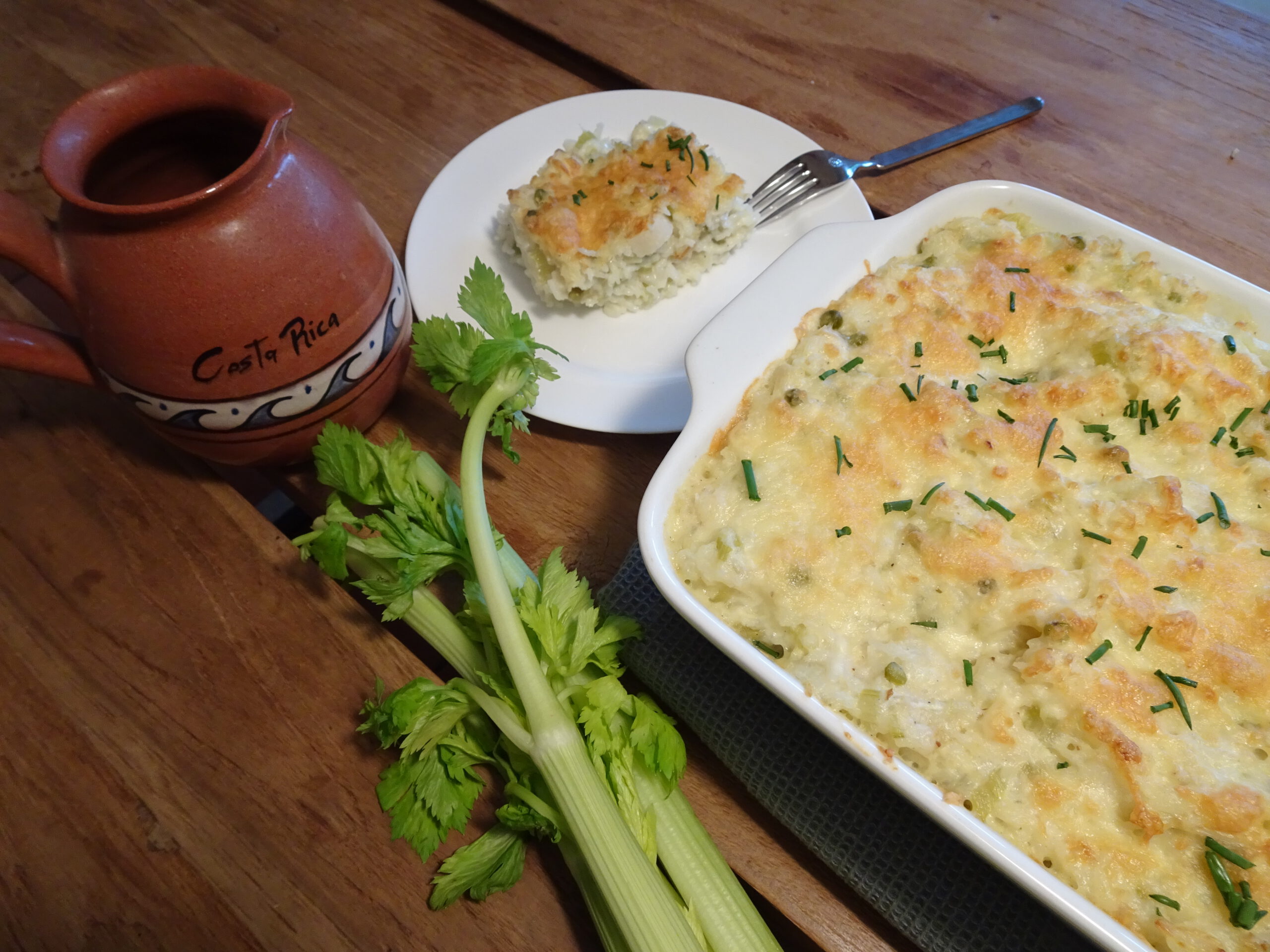 Enjoy your arroz con palmito (rice with hearts of palm) with a typical Costa Rican "fresco", a delicious self-made fruit juice!
If you want to try other recipes from our culinary tour around the world, click here!
Have you been to Costa Rica? What are your favorite dishes?