Greek salad, farmer salad or choriatiki, as the Greek call it, is an easy and quick to prepare and delicious salad. The fresh ingredients like tomato, cucumber, paprika and onion combined with with feta cheese, olives and olive oil will take you to the country of the ancient gods. One of the key ingredients is good quality olive oil. It is a typical ingredient of the Greek cuisine and has a strong Mediterranean flavor.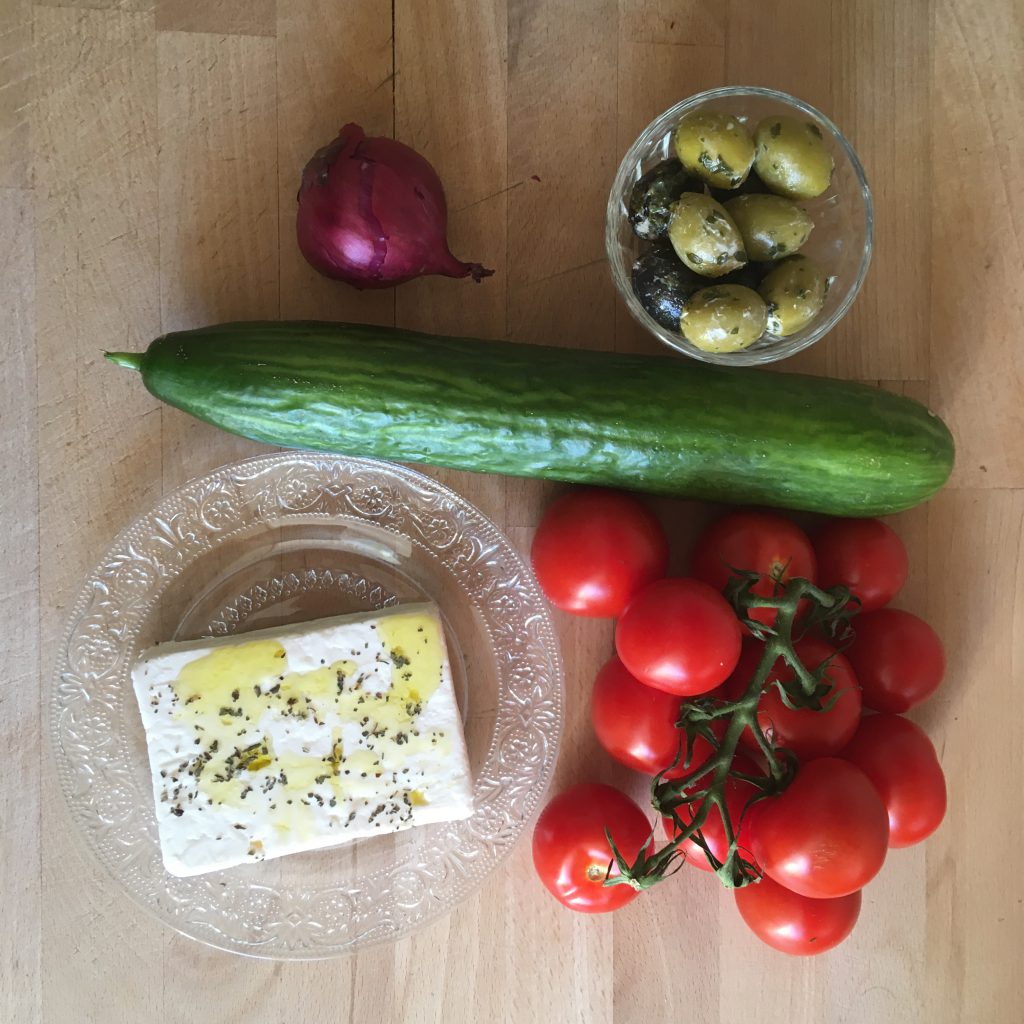 On our last trip to Greece, we were sitting in a cosy restaurant with a clear view of the acropolis and had a delicious Greek salad. Meanwhile, we were asking ourselves why we never made the salad at home, because it literally takes 15 minutes to prepare. Nowadays however, it is one of our favourite salads.
Why do people call it farmer salad? Because of the very few ingredients, which the Greek farmers usually had at hand, they were able to prepare this salad. By the way, we are currently starting our own herb and vegetable garden. Even though it will take a while until we can eat our first tomato, we are looking forward using it in a salad.
Without a doubt, this salad fits great to many Mediterranean dishes. Not only can you eat it as a starter, but also as a side dish or as a light main course. Especially, pita bread fits very well to the salad. It is a classic summer salad and perfect for a lunch at the office, picnics in the parks or during BBQ nights.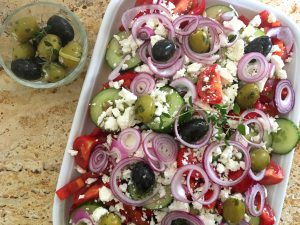 Print Recipe
Traditional Greek salad (choriatiki)
Fresh ingredients like tomato, cucumber, paprika and onion meet delicious feta cheese and olives. A classic salad, which is tasty, easy & quick to prepare.
Ingredients
250

g

cherry tomatoes

1

cucumber

1

red onion

1

paprika

60

g

olives

100

g

feta cheese

4

tbsp

olive oil

2

tbsp

white wine vinegar

1

tbsp

oregano

Salt

Pepper

1

pinch

sugar
Instructions
First, wash the tomatoes and cut them into half.

Then, wash the cucumber and slice them.

Wash the paprika and cut it into stripes.

Peel the onion and cut it into slices.

Mix the olive oil and vinegar and bring to taste with salt, pepper, sugar and oregano.

Mix the tomatoes, cucumber and paprika with the dressing and place it on a plate or salad bowl.

Decorate it with the onion slices, olives and feta cheese, which you crumble through your fingers.
Tips for the Greek salad:
You can vary the amount of tomatoes, cucumber and paprika.
Do you love pepperoni? Just add some.
Fresh (pita) bread and tzatziki fit perfect to this salad!
Do you want to try more recipes from our culinary tour around the world? Then click here.
Which dishes remind you of your last holiday in Greece?