This vegetarian recipe is a variation of the typical Spanish paella, which has its origin in Valencia. While the original paella contains meat, such as rabbit, chicken, snails, as well as vegetables, our vegetarian Paella scores with healthy vegetables and a nutty bite.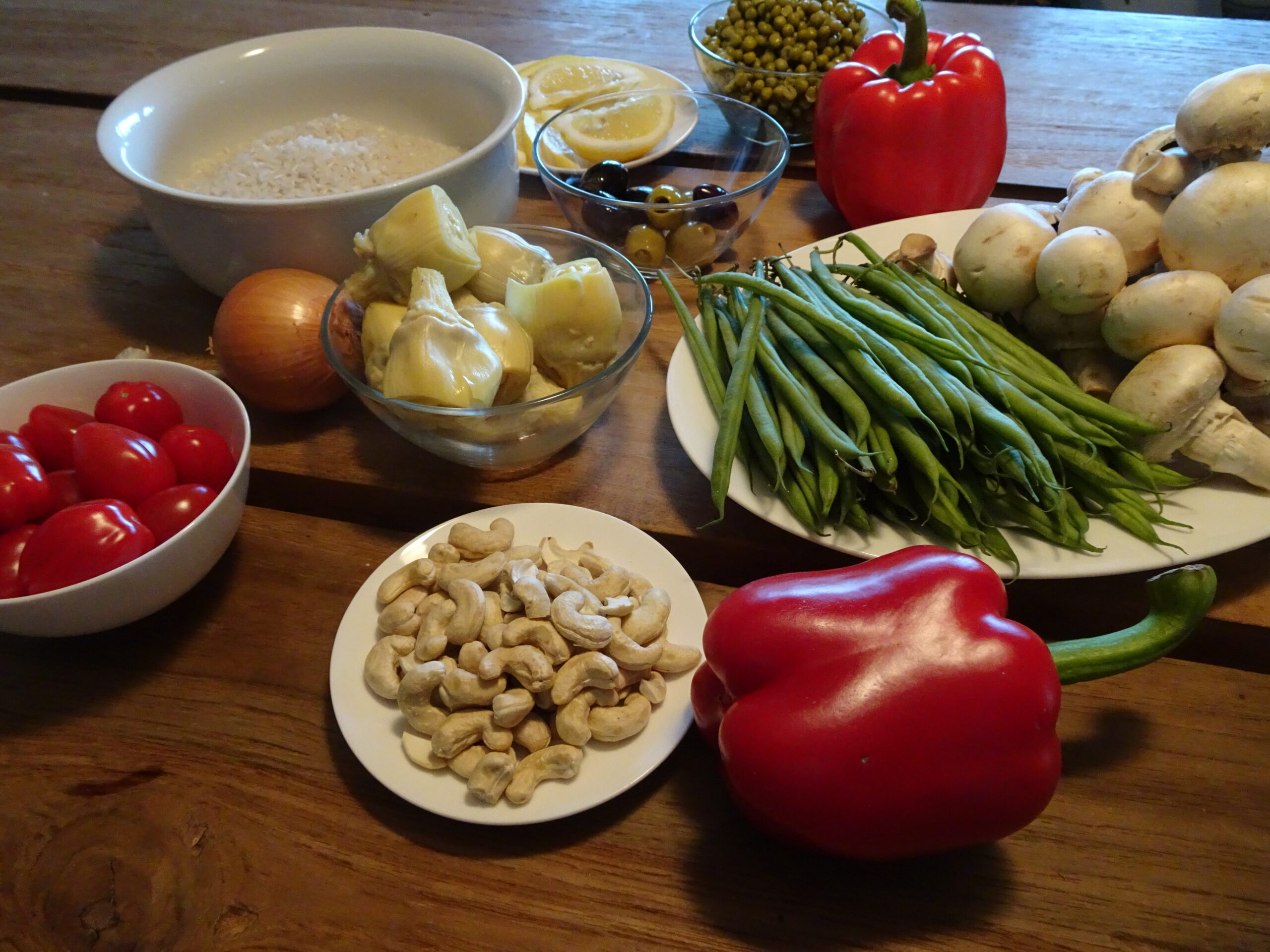 Sitting in a restaurant at the beach and watching windsurfers, while enjoying a delicious Paella with a cup of Sangría, summarizes one of the great moments we had on the Canary islands. We love to sit back and think about this moment. Every time we eat a paella, the taste brings us back to these islands.
In our paella variation, we additionally serve a yogurt sauce. However, this dish is also delicious by itself, so you can also leave out the sauce. By doing so, you turn paella into a vegan dish!
What is Paella?
Paella is a Spanish rice dish, prepared in a paellera. This is a big, round and flat pan, originally made from wrought or cast iron. Originally, paella ingredients were leftovers. Nowadays, it is an icon of the Spanish cuisine; paella is the national dish of Valencia and the Spanish east coast.
While many new variations of the paella exist, they do all have some aspects in common:
Paella is made in a paellera. This way, the ingredients are max. 4 cm high.
Paella has a crust called "Soccarat".
The original version contains saffron, which gives the dish the yellow color and a slightly bitter taste. Nowadays, the color often comes from yellow food coloring to save costs.
Typically, paella is made over a wooden fire.
Traditionally, you eat paella directly out of the pan.
Normally, you eat paella around 3 pm and not at night, because it is a heavy dish.
Variations of paella
The popularity of the paella resulted in many different versions of the dish. The original "paella valenciana" is often made with chicken, rabbit or snail and different sorts of vegetables. "Paella de mariscos" replaces meat with seafood and vegetables, "paella mixta" contains a mix of meat, seafood and vegetables. This new version is sometimes called "paella de turistas" (tourist paella) by some inhabitants from Valencia. Nowadays, you can also find the "vegetable paella" in restaurants – a vegetarian or vegan version of the dish. On our last trip to the Canary Islands, we have tried the vegetarian paella and loved it.
Anyway, there are different versions of paella and every chef gives it its own tweak. This is a good thing, because not everyone is into rabbit or snails.
Our version of the vegetarian paella
Considering this, we will show you our vegetarian paella. We do not own a paellera, but we managed to create a little soccarat (crust) at the bottom of the pan. The first bite brought our memories back to this moment, sitting at the beach, watching windsurfers and enjoying our paella together with a cup of sangría.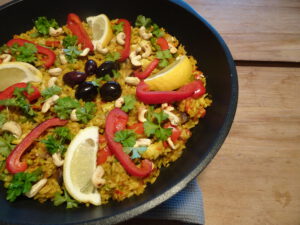 Print Recipe
Vegetable paella
This vegetable paella is a flavorful vegetarian variation of the typical Spanish dish and makes you feel like you are on a holiday. A healthy mix of many vegetables, rice, cashew nuts and a fresh yoghurt – lemon dip. ¡Que aproveche!
Equipment
Paella pan (otherwise frying pan)
Ingredients
For the paella
1

red paprika (240 g)

100

g

green beans

100

g

artishockes

150

g

mushrooms

80

g

peas

80

g

tomatoes

40

g

olives

1

onion

2

garlic

200

g

paella rice (bomba or arborio)

40

g

cashew nuts

Salt

Black pepper

2

knife tips

saffron (alternatively, you can use 1 tsp turmeric)

1

tbsp

vegetable broth (+ 360 ml hot water)

1

handfull

parsley leaves

1/2

tbsp

sweet paprika powder

1

lemon

cut in wedges for serving
For the yoghurt dip
100

g

natural yoghurt

Salt

Pepper

A little squeeze of lemon juice
Instructions
Preperation of the paella
Peal the onion and cut it into cubes. Peal the garlic and press it.

Cut the mushrooms in quarters and the tomatoes into cubes. Cut the paprika first into slices and set aside a few slices for decoration. Cut the remaining slices into cubes.

Cut off the ends of the green beans and cut them in pcs of 2 cm.

Heat up 3 tbsp of oil in a paella pan, add the onions and bake for 2 minutes.

Add garlic, mushrooms, tomatoes and paprika and bake for another 2 minutes. Leave apart the paprika slices for decoration.

Add rice and green beans and stir well. Cook for another 2 minutes.

If using saffron, dissolve it in 2 tsp of warm water.

Add the vegetable broth and safran (alternatively turmeric) as well as salt and pepper and bring it to boil while stirring.

Reduce the heat and let it boil for another 15 minutes until the rice is nearly cooked and the broth is nearly absorbed. If necessary, add more vegetable broth.

Meanwhile, prepare the yogurt – lemon dip (see preparation below).

Bake cashews in a pan without oil, until they turn brownish. Set aside.

Bake the paprika slices for about 4 minutes. Set aside.

Stir in the cooked peas, the olives, the artichokes and cook for about 2 minutes until heated through.

Decorate the paella with the paprika slices, cashew nuts, olives and lemon slices. Sprinkle with fresh parsley.

Paella normally has a little crust on the bottom of the paella pan. To get this crust, place a clean kitchen towel over the finished paella and let it cool down for 5 minutes. After that, removethe towel and put the paella on high heat. This way, the liquid at the bottom of the pan will evaporate. When you hear a little sizzle, let it stand for circa 30 seconds. It is caramelizing now. Remove the pot from the heat and serve together with the yoghurt – lemon dip.
Preperation of the yoghurt – lemon dip
Mix the natural yoghurt with a squeeze of lemon juice.

Bring to taste with salt and pepper
Notes
Tip:
You can use different vegetables, leave some out or use other vegetables you still have at home!
You're vegan? Just leave out the lemon – yoghurt sauce or use a plant based base instead.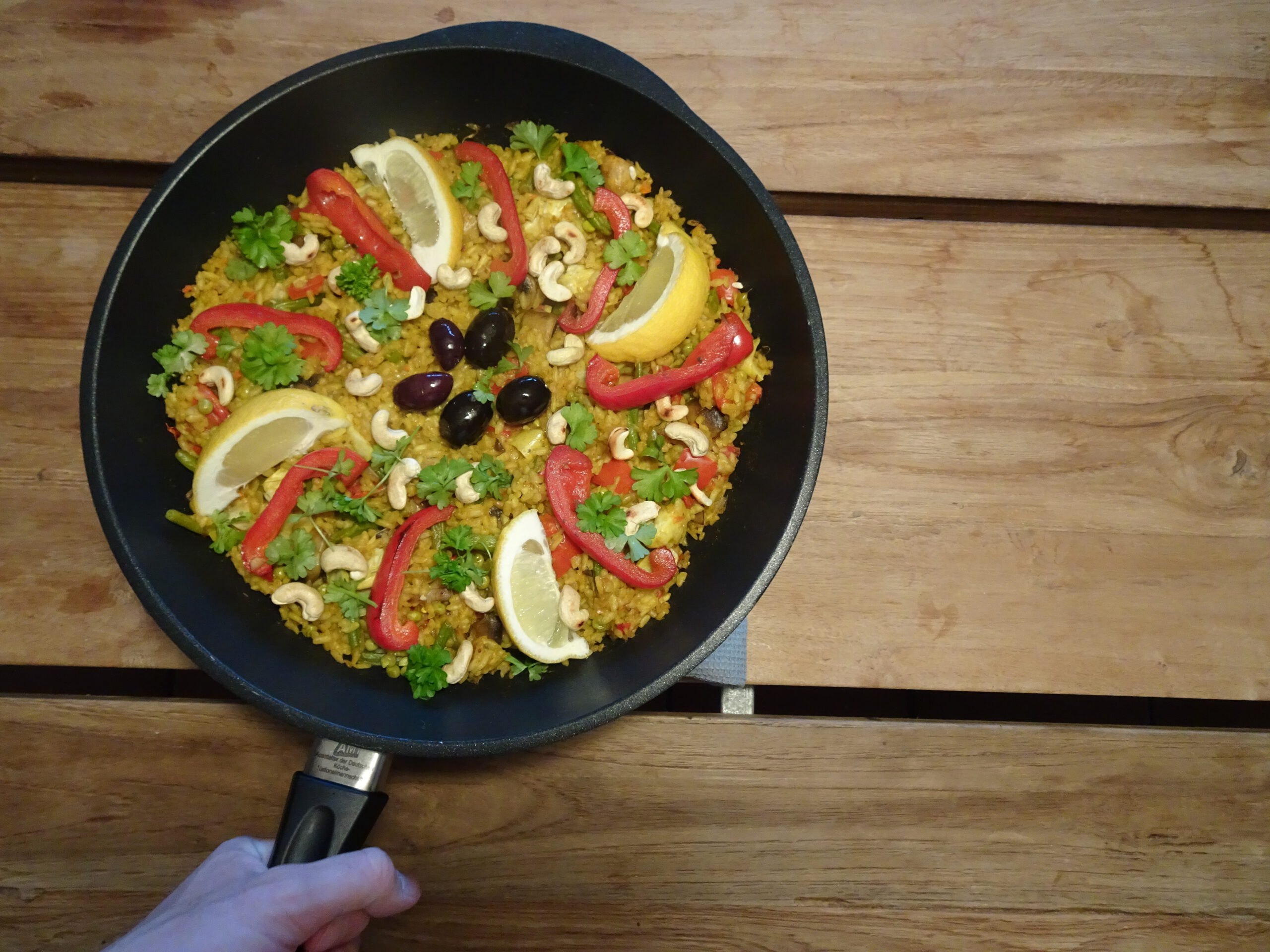 You want to try more European recipes? Then try out our Greek salad, Dutch endive mash pot or German strawberry cheesecake!
What are your favorite ingredients in a vegetarian paella? Let us know in the comments.