A mash pot (in Dutch: stamppot) is a traditional Dutch dish made from mashed potatoes combined with one or several vegetables, such as endive, kale, carrots or sauerkraut. Yet, you can also find stamppot in Belgium and Germany. Traditionally, a smoked sausage, small pieces of bacon, or stewed meat, accompanies stamppot. However, we show you a vegetarian version of stamppot. Many variations are possible and you can use the vegetables you like.
The tradition of (endive) stamppot
Thanks to its ability to warm up and fill hungry stomachs immediately, stamppot is a typical cold-weather dish that is easy to make. Therefore, it was the ideal dish during harvest months. In those months, potatoes were available in great amounts, which farmers used to prepare a filling, delicious and cheap meal. These hearty meals provided them with additional energy to perform hard and heavy work on the fields.
Nowadays, it is still one of the most popular dishes in the Netherlands and it will definitely be mentioned if you ask a Dutch person about a typical Dutch meal. Therefore, it should not be missing on our culinary world tour!
See below, for an original Dutch vegetarian endive stamppot: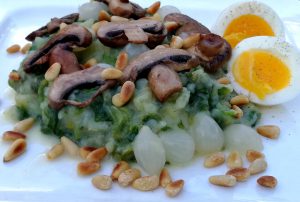 Print Recipe
Endive stamppot
A traditional Dutch dish, which tastes delicious and is easy to prepare!
Ingredients
600

g

potatoes

300

g

endive

125

g

mushrooms

2

eggs

125

ml

milk

25

g

pine nuts

2

tbsp

butter

50

g

silver onions
Instructions
Peel potatoes and cut in four pieces.

Boil the potatoes for 15 minutes.

Meanwhile, roast the pine nuts without using oil, and set aside.

Clean, cut in four parts and then bake mushrooms in a little bit of oil, and set aside.

Cut the silver onions in half and set aside.  

Boil the eggs for 7 minutes.

Add 3/4th of the endive and cook with the potatoes for 5 minutes.

Drain the water and then mash the potatoes and endive.

Add butter and milk to the potatoes and mix. It is best to slowly add the milk and stop when you have a good consistency of the mash pot. Add the remaining endive and mix.

Bring to taste with salt and pepper.

Finally, serve the mash pot and garnish with pine nuts, mushrooms, eggs and silver onions.
Notes
You can also try some variations with this recipe and try different vegetables next to it.
Enjoy the endive stamppot!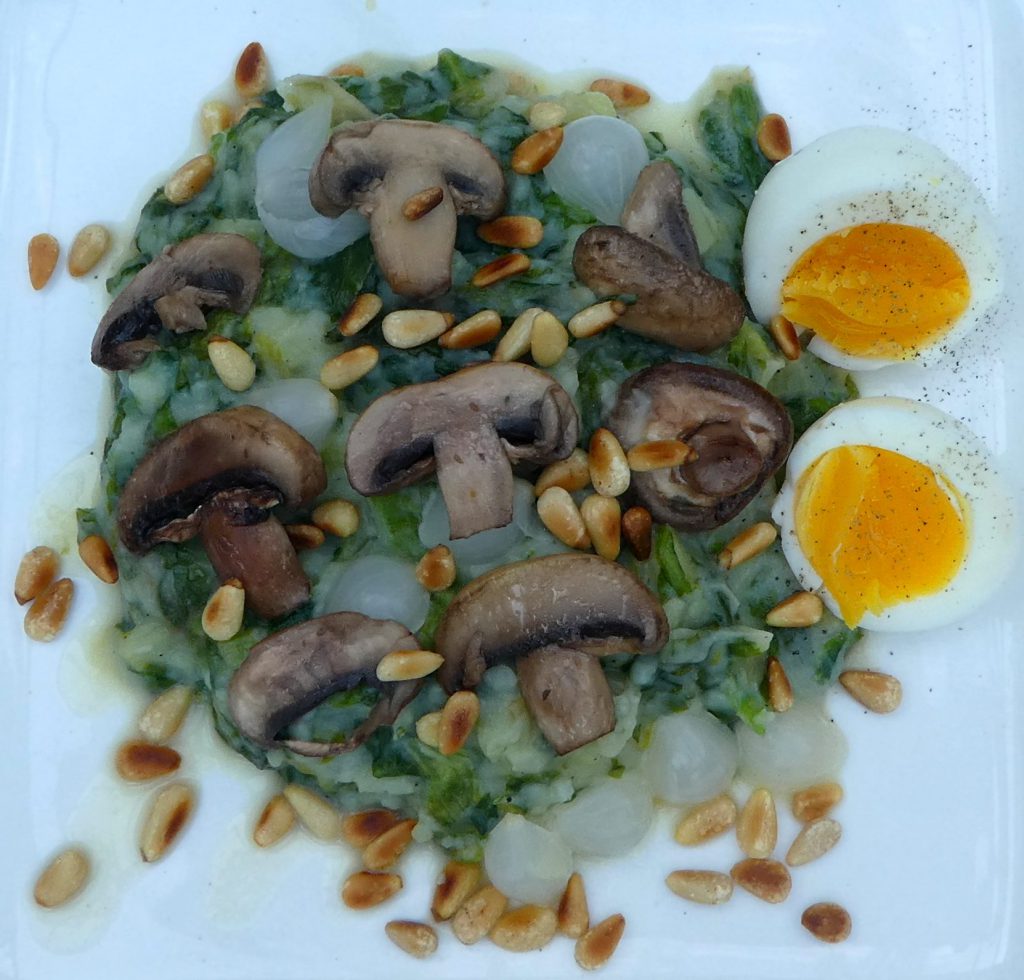 Did you like the stamppot or did you try to variate it with different ingredients? Let us know in the comments!