Do you feel like making Japanese sushi, but don't know how? Or are you looking for sushi inspirations? We will dive into the Japanese cuisine and show you how to make different varieties of the traditional Japanese dish at home. Without a doubt, organizing a sushi night with your family or friends is a fun and special activity you should definitely try out!
What is sushi?
Sushi is one of the most famous dishes from Japan, and it might be one of the most recognisable dishes in the world. While the dish is originally from Japan, nowadays you find it in many countries. For instance, the "California Rolls" origin from the west coast of the USA.
Sushi is cold vinegared rice with added ingredients like nori leaves, vegetables, tofu, egg or seafood. Also, it is often accompanied by pickled ginger, soy sauce and wasabi. The pickled ginger is used to neutralise the taste between the different sorts of sushi. Moreover, sushi is delicious, it is easy to make at home, cheap and fun. You can make sushi in a traditional way, but you can also mix all ingredients and create your own style.
What do I need to make sushi at home?
To make sushi at home, you mainly need:
Tools
A sharp knife
A bamboo mat
A pot
Basic ingredients
Sushi rice or some round grain rice
Vinegar
Sugar
Salt
Nori leaves
Wasabi
Pickled ginger
Soy sauce
Fillings / toppings (choose what you like)
Vegetables like cucumber, carrot, avocado, mushrooms (shiitake)
Tofu
Omelette stripes
Fresh fish like salmon or tuna. In case you use fish, it is really important that you use very fresh fish. You should especially ask for fish that is suitable for sushi.
As an alternative, you can also use smoked salmon, shrimps or surimi
Sesame
We would also recommend some bamboo sticks to create an authentic atmosphere. However, those are not required, because you can eat sushi with cutlery or your hands.
Different sushi types
There are many different varieties of sushi:
Maki Sushi: the typical sushi roll
Uramaki: an inside out maki roll
Nigiri Sushi: piece of rice with fish on top
Sashimi: slices of raw fish
Temaki: a seaweed cone filled with rice and other ingredients
Choose your fillings
When making sushi, you should first think about which filling you like. To make this easier, we will first present some options. While some options contain fish (traditional), some are vegetarian or vegan. Choose whatever you like or try your own combinations!
Maki
With…
Salmon (raw or smoked), avocado and chives
Salmon (raw or smoked)
Tuna (raw or canned) and cream cheese
Tuna (raw or canned) and mayonnaise
Salmon (raw or smoked) and cucumber
Cucumber (vegetarian, vegan)
Tofu and bamboo shoots (vegetarian, vegan)
Tofu, avocado and cucumber or carrot (vegetarian, vegan)
Shiitake mushroom, spinach leaves, cucumber and carrot (vegetarian, vegan)
Avocado, cucumber and mango (vegetarian, vegan)
Uramaki
With…
Surimi, cucumber, avocado, lemon juice, sesame, creamed horseradish – California rolls inside out
Surimi, avocado, wasabi, sesame
Smoked salmon, lemon juice, avocado, mayonnaise, wasabi – Alaska Rolls
Avocado, (vegan) cream cheese or mayonnaise, rucola, sesame (vegetarian, vegan)
Avocado, red cabbage, carrots, small corncobs from the glass, sesame (vegetarian, vegan)
Nigiri
with…
Omelette (vegetarian)
Avocado and wasabi (vegetarian, vegan)
Temaki
With…
Raw salmon, avocado, cucumber, chives
Raw tuna, red paprika, avocado
Carrots, cucumber, avocado (vegetarian, vegan)
How to make sushi at home
In this recipe, we are going to make maki, nigiri sushi and a very special PANDA sushi.
Of course, we will show you how to prepare sushi for hobby cooks. In fact, real sushi chefs follow an education that takes up to 10 years, where they learn how to make sushi.
Firstly, you should choose your favourite toppings, then you can start to make your own sushi. The recipe below shows the ingredients that we used for the sushi. Feel free to try one of the other versions mentioned above!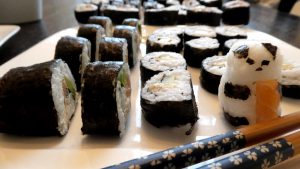 Print Recipe
Homemade japanese sushi – maki, nigiri & panda
Homemade sushi is a great japanese dish to prepare with friends or family. We will show you how to make maki, nigiri & a slightly different and cute version called panda sushi!
Equipment
Bamboo sushi mat

Bamboo sticks

Bowl

Pot
Ingredients
Sushi basics
200

g

sushi rice

3

tbsp

rice vinegar

400

ml

water

1

tbsp

salt

2

tbsp

sugar

5

pcs

nori roll

wasabi

pickled ginger

soy sauce
Filling (depending on your taste)
100

g

tuna

raw and fresh

100

g

salmon

raw and fresh

1/2

cucumber

cream cheese

1

avocado

2

eggs

Other ingredients such as crab, shrimps, mango, tofu or something you prefer.
Instructions
Sushi rice
Wash the sushi rice with a sieve under cold water until the water is clean. Let the rice drain.

Boil the rice with 400 ml of water for 2 minutes, then reduce the heat and let the rice simmer for another 10 minutes under low heat. Taste the rice and when finished, turn off the stove, and let the rice steam for 10 min with the lid on. The rice has to be moist and sticky.

Meanwhile, bring to boil the rice vinegar, salt and sugar and let it cool down again. As an alternative, you can buy sushi vinegar at the grocery store.

Pour the vinegar mixture over the rice and mix gently.

Let the rice completely cool down at room temperature and cover it with a wet towel until usage.
Preparing the filling
Slice the vegetables (e.g. cucumber, avocado, and paprika) in slices of 1 cm thick

For sushi rolls, the salmon and the tuna have to be about 1 cm thick.

For the nigiri variant, the fish or avocado have to be about 4 cm long and 1.5 cm wide.

Gently mix the eggs and make an omelette; you can either make a sweet or savoury variant. Finally, slice the omelette into pieces to use in sushi rolls or nigari variant.
Making the maki sushi
Place the bamboo mat on the counter.

Place the nori, smooth side down, on the bamboo mat.

Evenly place the rice on the nori, not too thick. Leave 1 cm room on the top side, because you need this to close the roll.

Place fish and other ingredients on the rice. You can make all the combinations your heart desires. Optionally, you can also add a little bit of wasabi below the filling for a spicy taste. But watch out not to use too much, because it is very hot 😉

Use the bamboo to roll the ingredients into a nice roll. Because of the moisture, the nori will stick very well. However, if it does not stick, you can use a bit of water to secure the nori.

Use a very sharp knife to cut the roll into small pieces. Wipe the knife in-between with kitchenpaper for optimal results.
Making nigiri sushi
Bring a small bowl with water for your hands and an empty plate for the nigiri sushi.

Wet your hands and take a bit of rice.

Roll the rice in your hands and create a rectangle by pressing your hands together.

After you finished forming the rice, you can place fish or omelette on the rice. Again,you can spread a bit of wasabi below the filling.

To secure the fish, you can cut off a thin slice of (0.5 cm) of nori and wrap it around the entire roll. 
Making panda sushi
You need to use a small bowl with water to wet your hands again, and an empty plate for storage.

Make rolls of about 4 cm high and 3 cm thick. These will form the body of your pandas. Make sure they can stand up straight.

Take a very sharp knife or a scissors to create legs, hands, ears, mouths and eyes for your panda of a nori skin.

Place the mouth, hands etc. on the correct location of your panda. You can cut a small piece of fish, avocado or cucumber and place it in between the legs and hands of the panda.
Notes
Serve together with wasabi, soya sauce and pickled ginger!
Traditionally, you eat sushi with the fingers or with bamboo sticks.
Enjoy with some green tea or Japanese beer 🙂
TIP:
Calculate some time for preparing the rice, because it has to cool down first.
Let us know if you're interested in how to make uramaki and temaki sushi, so we will show you how to prepare it in the near future.
In case you are also interested in other dishes from all over the world, don't miss out the recipes from our culinary tour around the world!
Which sushi combination has your preference?