What do you do if you only have 2.5 days for a holiday and do not want to drive far and long? Indeed, go on a micro adventure! We drove 20 minutes from Raalte to Ommen and settled on a camping. Time to chill, enjoy the water and go on a canoe trip!
5 reasons why we chose Ommen for a weekend escape
Ommen is a small city in the Dutch province Overijssel. It is a great spot for people who love diverse nature, such as forests, heathlands and rivers. You can find ranches and historic windmills.
Why did we chose to go camping in Ommen?
Ommen was very close to our home, 20 minutes by car.
The region has diverse nature to offer.
The camping lays next to the river Vecht.
Water sport activities like canoeing, Stand-Up Paddle boarding (SUP), swimming and fishing are possible.
You feel the Dutch camping culture.
Koeksebelt camping in Ommen – a typical Dutch camping culture
The Koeksebelt is mainly a caravan camping. However, they do have a campsite for trekkers where you could go with your own tent. We stayed there for 2 nights. Normally, campsites for trekkers are supposed to be for hikers/cyclists that leave the next day. However, that we wanted to stay for two night was not a problem. On the camping we encountered mainly elderly people or families with kids. We perceived it as a quiet camping. It offers a swimming area for kids and – even more important for us – lays next to a river. If you come with a caravan, you should definitely try to get one of the spots along the riverside. They looked amazing. You can go swimming or fishing without having to leave the camping. At the river, you have a beautiful view of Ommen and its windmill (yeah, typically Dutch), people on SUPs, canoes and boats as well as many anglers. It was chill to observe the relaxed atmosphere with nothing to worry about then enjoying the day.
Always check your gear!
For our weekend escape in Ommen, we borrowed an old tent, because our gear was still packed in our self-storage box (cooking gear, tent, mats and sleeping bag). Therefore, we also decided to buy ready-to-eat meals at the store. After checking in, the first thing we did was setting up our tent. We had ample space, as the trekking field was completely empty. The tent looked good, and after struggling with the tent, it almost stood. The last thing to do was attaching the tent firmly to the ground with guylines. Ralph attached the first one. SNAP! The line broke. The second one, SNAP! Eventually, we only secured our tent with three guylines instead of eight. Lesson learned: check your gear before you go!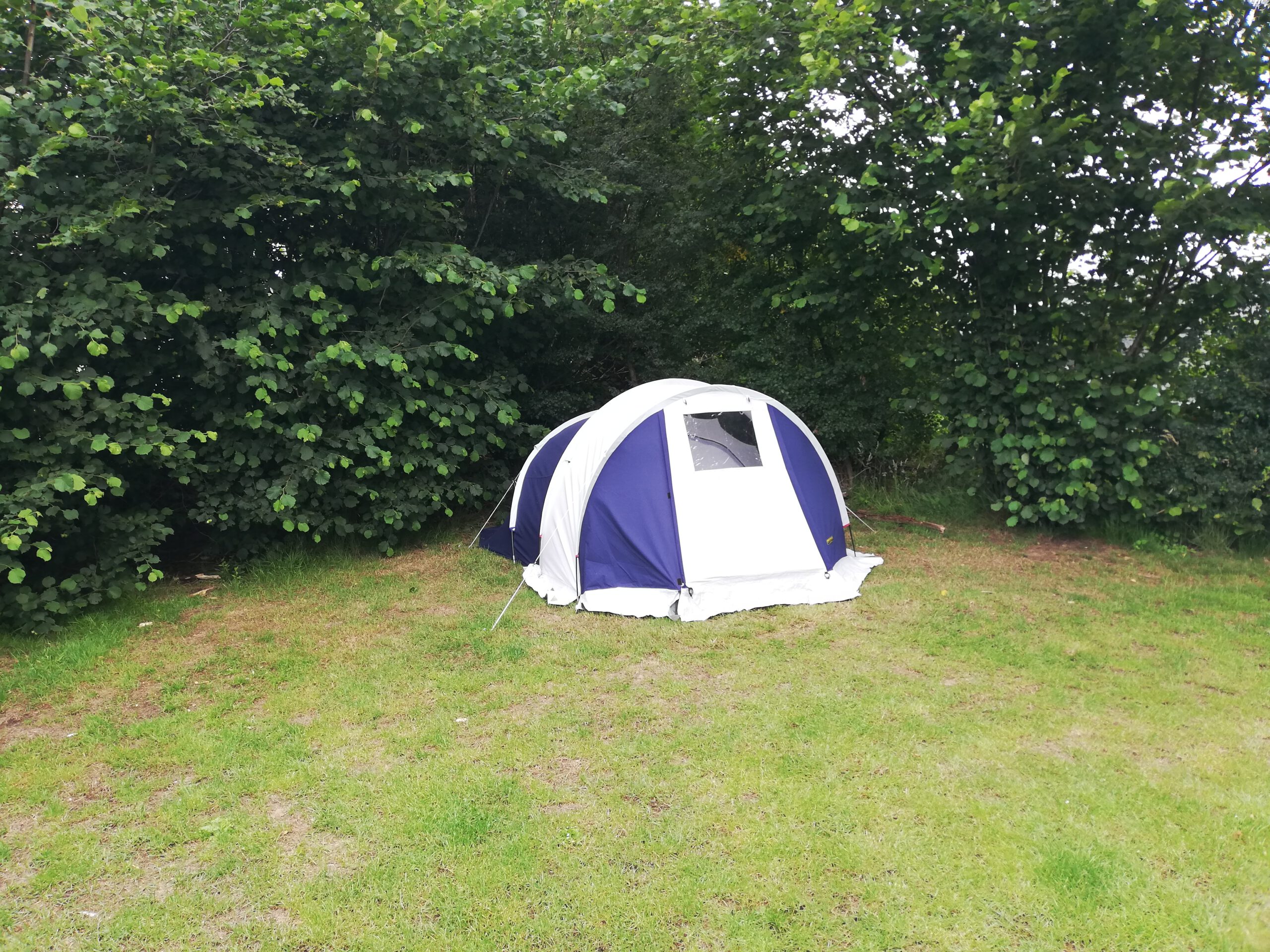 Thunder! – Be prepared for the Dutch weather
We always took our own tent to a camping. That is probably why we thought this tent would be fine and did not bother to check the tent before we left. Anyway, the weather circumstances changed every hour. Suddenly, the weather forecast said; THUNDERSTORMS!
This was not how we imagined our idyllic canoe tour on the Regge. Luckily, we were able to postpone our tour to another day. Meanwhile, we went to do some groceries. We were inside a shop and hell broke loose. So. Much. Water. We were dry, but were afraid of our tent, because we even spotted a small hole and because of the bad quality guylines. This way, we were not able to set up the tent properly. Luckily, our tent survived the storm and our clothes remained dry. In the afternoon, the weather cleared. Time to swim and chill at the water with a bottle of beer!
WELCOME to the Netherlands!
Chilling with anglers at the camping in Ommen
While settling at a bench next to the river and enjoying the evening, we did something we never did before: we observed anglers. The. Complete. Evening. Yes, it sounds boring, but it was very relaxing. We observed a couple for some time. The woman was catching many fish, while her boyfriend did not. Interestingly, he always gave unwanted advice. At some point, the woman was fed up with his advice and asked: how many fish did you catch? Silence.
We enjoyed the sunset – a perfect ending of the day! Especially when you are into fishing, you should really check out this place!
Exporing the Vecht and Regge by canoe
Near Ommen there are two rivers, namely the Vecht and the Regge. It is possible to rent a SUP board, a canoe or a boat and enjoy the water. We booked a tour in which they drove us upstream of the Regge. With a Canadian Canoe, you then follow the river to the Vecht. The trip ends in Ommen, at the place where you departed from. It is an easy tour, as you travel downstream. This means if you do not peddle, you still move. During our 3-hour trip, we only saw a few anglers and one other canoe. Nature was truly amazing in and next to this meandering river; you see many birds and fishes. The nature, the birds, the activity, the sun and the quietness made our day!
Overall, it was a great weekend trip, which made us feel as if we were on a small holiday. Do you want to get more inspirations like this one? Also check out ''Marker Wadden: an escape to a bird paradise'' and ''Mini adventure: Cycle through the (Göttinger) forest and gather wild garlic''.
Do you already have plans for your next weekend escape? Where will you go?