Plan F: travel from Puerto Varas to Santiago de Chile and obtain a plane ticket at the airport.
We arrived in Santiago de Chile at 7.30 AM on 20-3-2020. We directly went to the airport to see whether we could acquire two tickets home. At 8.00 AM, already 40 people were queuing in front of the Air France/KLM counter.
Waiting in the queue for hours
We joined the queue, but nobody knew when the counter would open. We heard 9.00 AM, but also 2 PM. Meanwhile Ralph went to the LATAM counter for information. They still had flights, costing $3.500 per person for today and tomorrow, and $800 for the 25th of March. No way would we pay that much for a flight, and 6 days during a crisis is like booking a flight that will depart in 1 year from an airport that is being planned. Roughly four hours later, we spoke with somebody at the Air France/KLM counter. "If you do not have a ticket, you have no chance to buy one". Apparently, the waiting list is very long and the only way to get on the waiting list is through a prior booked return-ticket. We asked two more persons of the same airlines, who confirmed this.
We went back to LATAM to see if they knew more about the flight that would depart on the 25th. Luckily, the queue was not long, especially if you drew a number (yes we did, many did not). "Are there any flights to Germany or the Netherlands this week"? "Actually, we have two tickets to Frankfurt for $800, departing today in three hours". SAY WHAT?!
Weigh our options
We thought that we were going to be stuck in Chile, and maybe do voluntary work at a farm to kill the time and to reduce costs. We looked at each other and shortly discussed our options.
Go home at a reasonable price (secure option), or
Stay in Chile that has a state of emergency for 90 days, for an unknown period, at an unknown place, and doing something (voluntary work) or nothing (stay isolated in a hostel).
We booked the flight. A fellow traveller, a boy of 16 that wanted to go to Germany, called their parents if he could also get this fight. Apparently, two minutes were too long and the flight was unavailable (spoiler: he was able to catch his original flight the next day and made it home).
Coming home
From no flight, to a flight in three hours. A complete shock. We checked in and made it to the flight. We apparently booked a comfort seat – we had no idea – and the flight was pleasant. Ralph even had room for his legs. Our plan was to go to Germany and live with Janice's mom for some time (remember, no jobs and no house). She would pick us up and drive us home, to minimize contact with people. Plan F seemed to work out. We landed at Frankfurt Airport and only had to go through customs.
At the federal police office
Let us introduce Murphy's Law:
"Anything that can go wrong will go wrong".
Janice went right (German passport holders) and Ralph went left (non-German passport holders). Ralph explained our plan, but he did not convince the officer. She took Ralph apart to discuss our plan with her senior. After a long discussion, this was the bottom-line: Ralph does not live in Germany and has no German passport (DECLINED – 1 PM). NO WAY!
They were going to book a flight to Amsterdam, because Ralph apparently is a great risk to the public health of Germany, and Janice apparently is not. It did not matter that we travelled together and would theoretically pose the same treat.
Janice managed to get Ralph's bag to him, because they first wanted that she would take it. Problem: we stored all our belongings in a storage box – Ralph would only have what he was wearing. Two police officers escorted Janice to pick up Ralph's bag. Within a few seconds, Janice came back to the room. We said goodbye, because after picking up her stuff she wouldn't have been allowed in the room. A very quick goodbye and Janice went home with her mother – she drove already 350 km. In addition, the police officer recommended that Janice should go to Germany first to find out if she would even be allowed to enter the Netherlands. Also, they were going to put Ralph on a plane to the Netherlands. This however, would have cost Janice €350, because she was able to enter Germany.
Spending a night at the airport?
Ralph did not know what was going to happen. They told him they would try to put him on a plane at 6.30 PM, but it could also be the next day, depending on the seat availability. Meanwhile, Ralph was locked in a small room with partners in distress. He could visit the toilet, but not alone. A police officer escorted him. In general, the officers were very polite and helpful. However, one of them was making discriminating comments. Not directly to us, but we overheard him say: "These two persons from Holland want to travel through Germany and infect our entire country, HA?". Luckily, we know when it is better not to express our opinion, so we stayed calm and tried to look friendly.
He waited until 5.30 PM, and only then he received the news that he would fly out at 6.30 PM. He then received his tickets, and two police officers escorted him to a police car. After a 15-minute drive they reached the plane, he was escorted into the plane, and they gave his passport to the KLM staff. The police officers waited until the plane took off.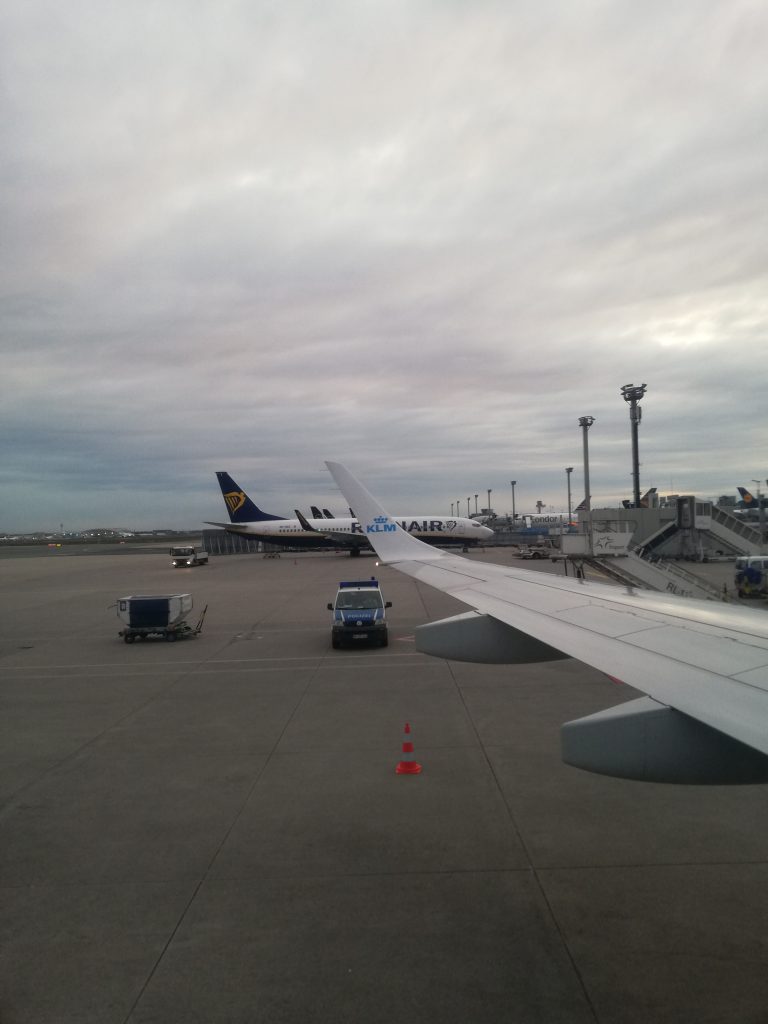 What a story.
Janice is currently in Germany and is able to travel to the Netherlands, because she has her first place of residence there. She is allowed to travel back to Germany from the Netherlands, because she has a German passport (unless they shut down the borders completely between the two countries). Ralph on the other hand, is prosecutable by law when he enters German territory (for an unknown period), as he had to sign a form that he is a severe threat to the German public health.
We are back in the European Union and obviously have no idea what we should do. However, one thing we know for sure: we want to finish our travels and truly discover this awe-inspiring continent! We have only seen Torres del Paine (truly magnificent), but we wish to see more of Patagonia (both Chile and Argentina), Chile, Bolivia, Peru, Columbia, Costa Rica, Guatemala and the world! First, we are going to de-stress and make new plans for the coming months. You will hear from us! It may be in a few months or in a year:
We will be back!
Be strong and stay save!